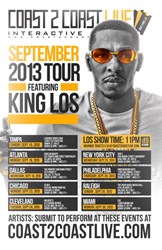 Baltimore, MD (PRWEB) September 04, 2013
Coast 2 Coast LIVE announces September 2013 Tour, featuring Bad Boy Records / Interscope Records / After Platinum Records' recording artist King LOS. Coast 2 Coast LIVE will also bring celebrity judges including DJs, Producers, A&Rs, and more to every tour stop, to give indie artists an opportunity to network and perform for prizes. Artists can submit to perform at any of the dates on the tour at Coast 2 Coast LIVE.
Each event on the tour will feature an artist showcase that will be judged by various celebrity judges spanning the music industry. Judges in the past have included multi-platinum and Grammy-nominated artist Warren G, the #1 DJ in the South Bigga Rankin, Grammy-winning producer Rockwilder, and more.
King LOS is from Liberty Heights and Garrison in Baltimore, Maryland. LOS has been on his grind since 1999, solidifying himself in the streets through dominating rap battles and signing with Da Bloc in 2001. His well-received "G5" series (G5 "Certified", G5 "Special Edition" and G5.2) has far exceeded sales of any other mix CD releases in Baltimore. With his success catching the attention of fellow Baltimore native Mario, LOS collaborated with the R&B artist to make a remix to "Crying Out For Me" & "Music for Love" also featured on the "G5" series. The response was so overwhelming it prompted Mario to have LOS perform on several tour dates leading to LOS' feature on the "Gangsta Grillz" tour with Young Jeezy, D.J. Drama, UGK, B.G., among others.
When not performing and releasing mix CDs, LOS has been building his catalog writing for well-known artists in the music industry. LOS' undeniable talent caught the attend of Bad Boy Records owner P. Diddy, landing LOS a spot on Bad Boy Entertainment's exclusive roster. LOS joins Coast 2 Coast LIVE on their September tour to promote his current mixtape, "Becoming King."
September Tour Dates:
9/15 - Tampa Edition
Legends Sports Bar | 1339 E Fletcher Ave., Tampa, FL 33612 | Age Limit: 21
9/16 – Atlanta Edition
Harlem Nights | 201 Courtland Street, Northeast Atlanta, GA 30303 | Age Limit: 21
9/18 – Dallas Edition
The Prophet Bar Main Street | 2513 Main St., Dallas, TX 75226 | Age Limit: 21
9/23 – Chicago Edition
Club E | 5415 W. Irving Park Rd., Chicago, IL 60641 | Age Limit: 21
9/24 – Cleveland Edition
Wilbert's | 812 Huron Avenue, Cleveland, OH 44115 | Age Limit: 21
9/25 – New York City Edition
SOB's | 200 Varick Street, Basement, New York, NY 10014 | Age Limit: 21
9/26 – Philadelphia Edition
Underground Arts | 1200 Callowhill Street, Philadelphia, PA 19108 | Age Limit: 21
9/29 – Raleigh, NC Edition
The Pour House Music Hall | 224 S Blount St.,  Raleigh, NC 27601 | Age Limit: 21
9/30 - Miami Edition
Eve | 1306 N Miami Ave., Miami, FL 33136 | Age Limit: 18
To find out more about the Coast 2 Coast LIVE September Tour, visit the website. Artists can submit to perform by going to http://www.coast2coastlive.com and media, DJs, and models can register for free to any events at http://www.coast2coastlive.com/events.
About Coast 2 Coast LIVE:
Coast 2 Coast LIVE tours in over 10 cities every month to bring indie artists major opportunities through our interactive showcase events. Artists submit via the website and get votes to perform in their city, judges critique the artists in various categories to find a winner for every city to take their music career to the next level. For more information, visit http://www.coast2coastlive.com.