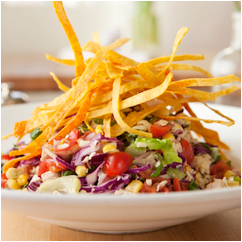 "There's no reason to not have a great glass of wine with a great salad, particularly when the salad is an entrée full of fabulous flavors and intriguing textures," said Vinaigrette Owner and Chef Erin Wade.
Santa Fe, New Mexico (PRWEB) September 05, 2013
Vinaigrette Salad Bistro is pleased to announce a series of tips on how to perfectly match salads with wine. Part of Vinaigrette's ethos is embracing a lighter eating style that puts vegetables at the center of the plate. This healthier, less weighty cuisine can easily be paired with a complimentary wine, specifically varietals that are livelier and light in body that possess a refreshingly high acidity that can stand up to the bold tang of a vinaigrette.
When choosing wine, owner and chef of Vinaigrette, Erin Wade picks bright refreshing white wines like Sauvignon Blanc; Riesling; Gruner Veltliner; Albarino; Pinot Bianco; Friulano; and naked (unoaked) Chardonnay. For reds, her choices are of the lighter, lower alcohol and lower tannin red wines like Beaujolais—an undervalued, yet high quality salad-friendly choice; Pinot Noir; and restrained, elegant, cooler climate versions of Cabernet and Malbec.
Erin Wade's tips for pairing specific salads with wine include:
Greek Salad and Librandi Ciro Bianco, Calabria 2010

The classic salad of chopped tomatoes, cucumbers, red and yellow bell peppers, kalamata olives and feta cheese, is delicious with this mineral Mediterranean white from Calabria, Italy. The wine's subtle tropical notes contrast beautifully with the salt of the feta and kalamata olives while its delicate limestone minerality is mimicked in the cucumbers and bell peppers. The inherent tang and acid of the wine stands up to the vinegar in this salad when dressed with a simple vinaigrette.
Tuna Salad and Domaine de Fontsainte Gris de Gris, Couriers 2011

Rosés are incredible with salads and this wine would go nicely with any salad that has fish notes, including anchovies. With its combination of subtle salinity and brambly strawberry notes, as well as its old world leanness, this wine is an excellent match for boldly acidic dressings.
Caesar Salad and Gerard Bertrand Cremant de Limoux

The scrubbing bubbles and high tones of bright, fresh sparkling wines have a lip-smacking quality that begs a bite of salty food. The briny acidity of the anchovies in this salad, both when chopped and whirled into the dressing, satisfies this salt craving, as does the dusting of parmesan cheese.
"There's no reason to not have a great glass of wine with a great salad, particularly when the salad is an entrée full of fabulous flavors and intriguing textures," said Vinaigrette Owner and Chef Erin Wade. "Pairing salads with wine is a delight that will leave you feeling healthy and satisfied rather than sluggish and tired."
Wade will be a featured chef at the 23rd Annual Santa Fe Wine & Chile Fiesta. Her cooking demonstration will be held at the Santa Fe School of Cooking on September 26, 2013 from 10:30-11:30am and will feature the preparation of three of Vinaigrette's signature salads specially partnered with white, red, and rosé wines.
Vinaigrette features by the glass wine selections and regularly features beautiful and crisp selections from such lesser-known regions as Corsica, Macedonia, Austria, and newly revitalized areas in Italy like Calabria and Sicily. For more information or to make a reservation, please call 505.820.9205 or visit http://www.vinaigretteonline.com.
For press inquiries, contact:
Lisa Neal
JLH Media
575 635 5658
lisa(at)jlhmedia(dot)com
About Vinaigrette:
Founded by Chef and Owner Erin Wade in 2008, Vinaigrette is chic, green salad bistro with locations in downtown Santa Fe and in Albuquerque, NM. Wade, a self-taught farmer and restaurateur grows the gorgeous organic vegetables, luscious salad greens and bountiful herbs that are the foundation for the Vinaigrette menu on her 10-acre organic farm located north of Santa Fe. Vinaigrette's menu includes 20 playful and delicious salad pairings, extras such as grilled marinated baby artichokes and Erin's Mac & Cheese as well as sandwiches and soups. The restaurant's dynamic connection to the farm and the land pervades the restaurant's philosophy and operations including its ethos that eating well should be fun and delicious. The Santa Fe location was opened in November 2008, seats 68 indoors and around 100 during April to mid October when the patio is open. Albuquerque was opened in November 2012 and seats 100 indoors and almost 175 when both patios are opened. Vinaigrette composts all organic food waste, recycles everything possible and reuses glass bottles for water service. Paper goods are 100% recycled and all to-go goods are compostable. Serving on request minimizes water use while extra is used to water on site plants. Green pest control practices are used and no VOC paints are used at either restaurant.