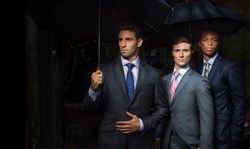 NEW YORK, NY (PRWEB) September 05, 2013
Martin de Tours Clothier announces their first ever fashion presentation during New York Fashion Week this September 13, 2013. This fashion event is one of the most exciting and highly anticipated events of the season.
Martin de Tours Clothier brand will present their custom made ready-to-wear menswear collection at the ultra posh Gansevoort Park Avenue in New York City on September 13th, 2013 from 7pm-9pm. Top tier media, New York tastemakers and influential trendsetters will be attending the VIP invite-only affair.
Martin de Tours Clothier offers high quality made-to-measure menswear custom suits and dress shirts with the finest fabrics to exceptional service provided by a personal style valet to each guest. For more information and to purchase Martin de Tours Clothier online, visit http://www.mdtclothier.com or order by calling 800-638-0817.
Martin de Tours Clothier is a luxury ready-to-wear menswear line. Made from the finest materials, each item is custom made and offered at an affordable price. The company produces beautiful tailored-made suits and dress shirts. More than a brand, Martin de Tours is an accessible lifestyle from providing value and convenience to offering top style valets, VIP exclusives and events to superb service for their guests. For more information on Martin de Tours Clothier and its products, visit http://www.mdtclothier.com and Facebook via facebook.com/MdTClothier and Twitter via twitter.com/MdTClothier.
# # #
For media inquiries:
Tamara York
Tamara York Public Relations
tamara@tamarayorkpr.com
212-967-8300