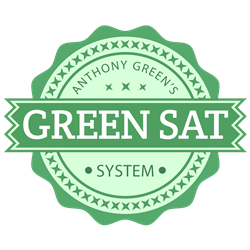 We're thrilled with these results - but we want to get much, much better. This is just the start of something great.
New York, NY (PRWEB) September 05, 2013
The Green SAT System, a new SAT prep program developed by SAT guru Anthony-James Green, is making waves in the test prep community. In the short time the program has been available, students have been improving their scores by levels almost unheard of in the industry, for a price lower than almost any option available on the market. As word spreads about the program, reviews have been pouring in throughout the web - thus far, these reviews paint a very bright future for the upstart SAT program.
Reviews for the program are popping up all over the net, discussing both the effects of the program and the experience it provides. "I wasn't expecting this," says a high school junior new to the Green SAT System. "It's really easy to use, and when I have questions, there's always someone online to help me out." "I've gone up by 400 points already - is that normal?" asks another student in an online forum. Reviews are critical for the new prep system, which exists in an industry dominated by competitors with millions, and in some cases billions, of dollars in revenue.
Parents and students interested in learning more can visit the program's website at:
"At the end of the day, everything comes down to trust," says Green, the developer of the program. "Selling SAT prep isn't like selling a laptop or a cup of coffee - it's a much more sensitive transaction. Parents realize how important SAT scores are for their children's future, and they need to be sure that they're making the right choice. In most cases, they have one shot at this test - if they don't pick a program that works, they're out of luck. We're thankful that our users are spreading the word, and we're doing everything we possibly can to collect their feedback. While I'm proud of my program, I realize that it's only a shadow of what it can be. As we continue to collect feedback from our users - both the good and the bad - we can continually improve what we're offering, and right now, that's my only focus."
Because the program is new to the market, and students need more time to use and review the system, Green is doing everything in his power to make the program as accessible and risk-free as possible for buyers: the program comes with a 21-day, no-questions-asked guarantee - parents who try the program has 21 days to see whether it's working, and if they don't like it for any reason at all, they can send Green an email for a full refund.
"Most guarantees in my industry are ridiculous," says Green. "They offer parents their money back AFTER they've seen their results. But by that point, it's far too late. If you use a 4-month program and your scores don't improve, who cares if you get your money back? You missed your shot to improve your SAT scores. Instead, I let students try the program - if it's not for them, their parents can just send me an email and get their money back. People can tell if the program is working within about 7-14 days, and if it's not the right program for them, then they're free to go elsewhere without spending a cent. There's nothing to mail back and no forms to fill. I don't want to get paid if the program isn't working. It's simple, and it's fast."
Green's program is entirely online, and comes with both a 30-day "crash course" and a 60-day program for students with more time to prep. The SAT course costs $297, including all books and materials necessary for use, and covers all three sections of the test.
Anthony-James Green has tutored over 340 students one-on-one, with one of the highest average score improvements of any SAT tutor in the business. The Green SAT System is a distillation of his own 1-on-1 program, developed over more than 10,000 hours of hands-on experience with the SAT. Parents interested in learning more about Green can do so by visiting his personal booking site via the following URL:
http://www.NewYorksBestSATtutor.com.
Green lives between New York and Los Angeles, where he works on his system full-time when not working with his one-on-one students.
###