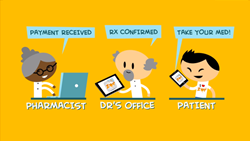 "ZappRx's core product could well become the mobile payment service for all health platforms in the future." - Ryan Moore, Atlas Ventures
Cambridge, MA (PRWEB) September 05, 2013
ZappRx (http://www.zapprx.com), a new mobile platform that simplifies and modernizes the prescription management process, today announces the company has raised $1 million in seed funding lead by Atlas Venture's Jean-Francois Formela and Ryan Moore, along with Life Sciences Angel Network, Hakan Satiroglu, and other notable angels. Jay Silverstein, Founding Member of Oxford Health, Will Cowen, Founder and CEO of NaviNet, and George Kassabgi, Founder of Keas.com, will join the company as advisers.
ZappRx improves the way doctors, patients, and pharmacists interact with one simple smartphone app for managing prescription payments and medical information. For the first time, doctors will be able to e-prescribe directly to their patients, patients will be able to order and pay for prescriptions electronically, and pharmacists will be able to pre-process insurance information and communicate digitally with the prescriber. Medication reconciliation, adherence verification, symptom tracking, refill requests, bill pay, and provider messaging are all done through the mobile platform. ZappRx has taken considerable measures to comply with all HIPAA and MU-2 regulations. Thus, while complete transparency allows for informational efficiency, the company also guards what patients value most: their privacy.
There are currently 172 million patients taking prescription medication in the US and 165 million consumers with smartphones in what is projected to be a $900 billion worldwide prescription drug market by 2015. Major chain pharmacies individually lose an average of $1.2 billion dollars annually in lost productivity and administrative burden due to inefficiencies in e-prescribing and insurance processing. Additionally, with the shift in health care reform from fee-per-service to pay-for-performance there are no solid patient engagement tools to help providers meet these new standards of care requirements.
"It seems very counter-intuitive that patients still do not have direct access to their prescriptions, which results in limited portability and information flow," said Jean-Francois Formela, a partner in the life sciences group at Atlas Ventures. "With ZappRx, we see a very unique way to engage patients via a mobile platform. ZappRx's core product could well become the mobile payment service for all health platforms in the future," added Ryan Moore, a partner in the technology group at Atlas that focuses on emerging web service companies.
ZappRx launched in May 2012 with friends and family backing from renowned physicist James Glimm, Michael Silverman (co-founder of the Fancy), and Dr. David Silverman, among others. Over the next several months ZappRx will announce several pilots and enterprise partnerships with doctors, clinics, and pharmacies across the country.
About ZappRx
ZappRx is a mobile checkout tool for electronic prescriptions. Using a patient-centric application, ZappRx facilitates integration and sharing of EMR information. Patients access one simple and secure mobile repository housing their medication information, payment data, symptoms log, and refill requests. This centralized platform reduces administrative waste and accelerates coordination of care. Consistent with the shift in healthcare toward a P4P/accountable care model, ZappRx meets the CMS MU-2 requirements for electronic patient-provider communication.
ZappRx is on the web at http://www.ZappRx.com. Follow ZappRx on Twitter at http://www.twitter.com/zapprx.