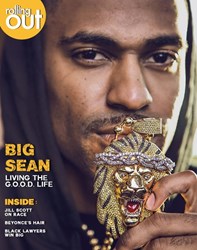 We did in just a sport type of thing.
Atlanta, GA (PRWEB) September 04, 2013
Big Sean's personal life and his career are in perfect alignment right now; an ideal example of how talent and timing can coalesce and reap major benefits. Nothing showcased that better than his release of a standalone track called "Control" in early August. A track that also features Roc Nation rapper Jay Electronica and a scene-stealing verse from Kendrick Lamar, it became an instant phenomenon due to Lamar calling out virtually every major hip-hop star of his generation. The song was due to be included on but missed the final cut. Sean leaked it himself, and when fans heard Lamar's verse — it sparked a firestorm.
"We did in just a sport type of thing," Sean explains to New York-based journalist Stereo Williams during the interview in Los Angeles. "I did my verse, Jay Elec did his verse and then Kendrick hit me up. I'd already [done] my verse and sent in the beat with my verse."
With Kid Cudi gone and veteran label stars like Common, Q-Tip and Pusha T still months away from releasing official debuts from the label, the cocky rapper from Detroit is the artist most entrusted with carrying the mantle for Kanye West's label.
Visit rollingout.com to read the interview in its entirety. Be sure to check out the exclusive photo shoot and video footage with photographer Phoenix White of Emkron Studios for Steed Media Service.
About rolling out Magazine:
Rolling out, the nation's largest free urban weekly, is a digital and print magazine that focuses on the black experience in response to entertainment, politics, fashion, culture, sports and lifestyle points of interest. Headquartered in Atlanta, rolling out is positioned as the voice for the African American experience, using its newspaper as a platform in the marketplace to express urgency for education reform, and to document entrepreneurial endeavors and other relevant issues in the Diaspora. For information on rolling out, please log on to rollingout.com.