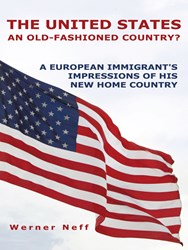 reveals how a Swiss economist, immigrant and retiree views...the United States
Carbondale, CO (PRWEB) September 06, 2013
The United States – An Old-Fashioned Country? A European Immigrant's Impression of His New Country is a thought-provoking read that details both general observations and carefully researched insights into the economic and political systems of the United States. A retired Swiss economist, author Werner Neff uses his background and personal move to Colorado in 2010 to explore the inner-workings of American culture and politics.
Neff shares an enlightening perspective on the truth about two leading nations' compelling differences in their socio-economic structures and benefits. Through these comparisons of the Swiss and American models, Neff offers new options for the United States on how to improve these current practices.
"I moved to Colorado when my wife was ill, and I had to quickly learn how to navigate the various health, political and local services," said Neff. "I found the process challenging and fascinating as I encountered the politics and social customs of my new country."
Based on his personal experiences, observations and extensive research, Neff created this collection to reveal how a Swiss economist, immigrant and retiree views the socio-economic structure of the United States, the national and foreign politics and details about the successful Swiss model.
For more information, please visit http://www.wernerneffusa.com.
The United States: An Old-Fashioned Country? A European Immigrant's Impressions of His New Home Country
By: Werner Neff
Paperback: 13.95
ISBN: 9781481703260
Available at bookstore.authorhouse.com, amazon.com and barnesandnoble.com.
About the author
Werner Neff earned his master's degree in economics from St. Gallen University in Switzerland and his PhD in political science from Freie Universität in Berlin, Germany. Neff worked for more than 20 years as an executive in a large Swiss bank, and, while living in Zurich, was an active participant in the votes and elections surrounding Swiss public life. Neff currently lives in Colorado, where he continues his research and enjoys many cultural and outdoor activities.
# # #