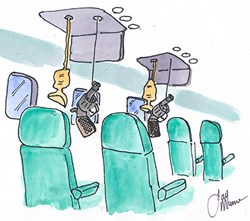 (PRWEB) September 09, 2013
Even in the best of times, life has always been complicated and confusing. But the new social and technological dynamics that have taken over our world since the turn of the century have flummoxed us beyond belief (and maybe redemption). Navigating through this bewildering minefield called life while keeping your sense of humor intact is what Eric Nielsson's Cautionary Tales for the New Millennium is about. In just a few words, he manages to capture the droll, ironic realities of the modern everyday while making us think (and chuckle).
Jay Munro's illustrations offer a delightful counterpoint to Eric Nielsson's tales of woe and wonder, and the combination is a memorable collection that is reminiscent of "The New Yorker's" old short humor pieces.
Published by the PHP Shorts imprint of Pixel Hall Press, "Cautionary Tales for a New Millennium" will be available as an eBook in all formats, from Amazon, Apple iBookstore, Barnes & Noble and other online bookstores, in mid-October. Reviewers and Beta Readers should contact Cynthia Dadson (at) PixelHallPress.com to request prepublication review copies.
ABOUT ERIC NIELSSON, AUTHOR
In early 2001, Eric Nielsson dropped out of the corporate rat race, to follow wherever highways and byways led him — always with a notebook and pen in hand. He claims that he has left technology behind, and doesn't even have an email address or cell phone. Eric is always writing, and has promised to deliver another series of quick humorous sketches of modern life that will make you smile, then wince with recognition, which Pixel Hall Press will publish in 2015.
ABOUT JAY MUNRO, ILLUSTRATOR
Jay Munro has been cartooning since high school, looking at the world in a slightly twisted way. He's currently working as a tech writer, but also indulges in cartooning, photography, motorcycle riding, guitar playing, electronics tinkering, and wine making. He, his wife Kathy, and Frankie the cat live in the Northwest trying to figure out how to retire and spend their time riding the roads.
PIXEL HALL PRESS'S BETA READER PROGRAM
Before the release of most Pixel Hall Press print books and PHP Shorts eBooks, a select group of readers are chosen to receive free prepublication copies. These beta readers are asked to:

Provide feedback on the book.
Help ensure that any eBook formatting works and looks good on a variety of eReaders, smartphones, tablets and other devices.
If they like the book, to help spread the word among their friends, on social networks and through honest reviews on their favorite online bookstore(s).
If you are interested in becoming a Pixel Hall Press Beta Reader, please send an email to info(at)pixelhallpress(dot)com with "Beta Reader Program" in the subject line, or fill out the Contact form on Pixel Hall Press's website.
ABOUT PIXEL HALL PRESS
Pixel Hall Press is a relatively new, old-fashioned small publishing house that is quickly becoming known for discovering literary gems and great stories that might have otherwise been overlooked.
In this era of digital technology, Wall Street involvement and merger mania, mainstream publishers seem to have lost sight of the core principles and purpose of publishing. At the other end of the spectrum is an avalanche of self-published books that are notoriously uneven in quality. Small boutique imprints, such as Pixel Hall Press, are reclaiming the heart and soul of publishing by reviving the idea that a publisher's "raison d'être" is to find and nurture great writers, and to provide readers with beautiful, meaningful, truly enjoyable books.
Determined to keep Pixel Hall Press small, we will be moving forward slowly and deliberately, publishing only a few carefully selected print books every year.. We plan to add only one or two new book authors a year, giving them more creative involvement, the opportunity for greater dialogs with readers, and a higher percentage of the profits. In addition, we will add a handful of new short story authors per year, publishing their stories initially as eBooks only, as part of our recently announced PHP Shorts series. Eventually, Pixel Hall Press will publish one or two print short story anthologies a year. A significant portion of the profits from each multi-author anthology will be donated to a charity relevant to the subject of the anthology.
Authors interested in submitting novels or short stories to Pixel Hall Press should read the Writers Guidelines first.
ABOUT PHP SHORTS
PHP Shorts, an imprint of Pixel Hall Press, publishes stand-alone short stories and novellas as inexpensive eBooks.
With the proliferation of Kindles, eReaders, plus eReading apps for phones, iPads, tablets and computers, Pixel Hall Press predicts that the market for short stories and novellas is about to experience a renaissance. The length of a story is going to become irrelevant. All that will matter is whether it's a great story that captures the readers' interest and imagination, and that it can be read on any device you happen to have with you.
The most recent PHP Short was "Annabelle" by Nancy Christie, a lyrical tale of the price paid for the passion of an artist. Later this year, PHP Shorts will also be publishing "Alice in Wonderland" another pearl of a story from Nancy Christie, and re-releasing "The Broken Bottle" by Sally Wiener Grotta.