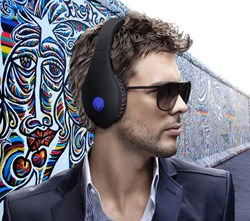 Morgan Hill, CA (PRWEB) September 05, 2013
Velodyne (http://www.velodyne.com) – a diversified technology company known worldwide for its high-performance audio equipment and high-definition LiDAR sensors for autonomous vehicle applications – will unveil its vQuiet® Premium Noise Cancelling Headphones to a global media audience during ShowStoppers/IFA Berlin 2013.
The ShowStoppers press event will take place at the Messe-Berlin Fairgrounds, Building 15.2, from 6 p.m. to 9 p.m. on Sept. 5. IFA runs from Sept. 6 through Sept. 11 at Messe Berlin GmbH, Messedamm 22, 14055 Berlin. The foremost consumer electronics event in Germany, IFA is organized by the German Association for Entertainment and Communications Electronics (gfu) in cooperation with Messe Berlin.
vQuiet headphones are designed to reduce jet engine and other ambient noise by 90 percent while delivering the highest-quality musical or other audio experience. A control module on the vQuiet's detachable audio cable enables users to seamlessly transition from listening to music or watching video to talking on the phone when connected to devices that have these features. The headphones are available in matte black with a diamond-blue Velodyne insignia on each ear cup that serves as a bypass/mute button, and are foldable for easy storage.
vQuiet noise cancelling headphones join a growing roster of Velodyne-branded audio equipment designed to offer everyday consumers and audiophiles alike a wide array of choices and features, according to Marta Hall, Velodyne President. Hall is an internationally known sculptor and designer of some of Velodyne's latest products and features, including the recently introduced vLeve® On-Ear and award-winning vFree® On-Ear Bluetooth Headphones, both of which can be personalized using custom-designed skins developed by Hall and other internationally known artists, such as Lucas de Alcantara, Francesco Orazzini and Abel Del Rio.
"vQuiet noise cancelling headphones are the ideal seatmate for any international traveler – or anyone who simply wants to get away from the distractions of everyday life," said Hall. "We look forward to continuing to bring these and other high-quality audio and other technology products to the European and other international markets."
Also at ShowStoppers, Velodyne will demonstrate its vTrue® Studio Headphones, vPulse® In-Ear Headphones, and vFree® Bluetooth Wireless Headphones, along with the WiQ® wireless subwoofer and select other models of its high-performance, low-distortion bass subwoofers that over the years have established the company's international reputation.
About Velodyne
Founded in 1983 and based in California's Silicon Valley, Velodyne, Inc. is a diversified technology company known worldwide for its high-performance audio equipment and high-definition LiDAR sensors for autonomous vehicle applications. The company is widely recognized as the leading manufacturer of high-performance, low distortion powered subwoofers and an expanding line of technically innovative in-ear and over-ear audio products with interchangeable custom-designed skins that enable audiophiles to personalize the look of their headphones. Velodyne products are available online at http://www.velodyne.com and from a select group of authorized dealers, custom installers and distributors worldwide. Since 2007, Velodyne's LiDAR division has emerged as a leading developer, manufacturer and supplier of high-definition LiDAR sensor technology used in a variety of commercial autonomous vehicle applications, including 3D mapping and surveying. For more information, visit http://www.velodynelidar.com.