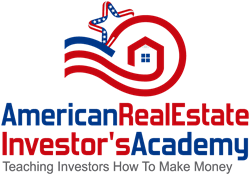 This is for everyone who wants to learn how to make money in real estate. You dont need cash or credit, you need an education, and we can help you find that.
New York, NY (PRWEB) September 09, 2013
The American Real Estate Investors Academy has added a page that will offer a wide selection of home study courses. These courses are from some of America's most sought after real estate educators. The American Real Estate Investors Academy is an online learning platform which evolved into an online real estate association.
The academy is built around a web site. The web site caters to the needs or real estate investors who do not have access to a traditional local investors club. Clubs like this one have existed for decades, but not everyone had access to or could attend club meetings. The meetings are where the real value and educational resources were shared. So in order to service potential investors who had a desire to learn the techniques of successful real estate investors, the learning platform expanded to offer the services that were typical of a brick and mortar association.
In an expansion of the group's mission to offer education to the masses, a series of new projects have taken shape. One of these new projects is to make a selection of courses available to members. American-REIAs has reserved a portion of the club's web site to offer members of the group, the most up-to-date and informative "how to make money in real estate" courses.
The first goal of the home study program was to find the best products, from the best instructors. In pursuance of that goal, the club has signed agreements with some of the most recognizable names in real estate investing. Nationally known gurus like Ron LeGrand, Robyn Thompson, Lou Brown, and other top educators, have allowed the club direct access to their best and most requested courses. At the very start, this program has secured the best teachers in America, and will continue to expand this offering until members have access to a full course catalogue of money making techniques. All of the courses will be offered on a single page and will be grouped by category and author.
Membership in the club is required to be able to access these courses. The good news is that membership in the club is free. The only requirement to join the club is a desire to learn how to make money in real estate, and an email address. Perspective members should go to American-REIA.com and sign in on the home page. Then a confirmation email will follow. Once the perspective member replies to the confirmation email, then they are officially in the club, the process of joining is that simple.