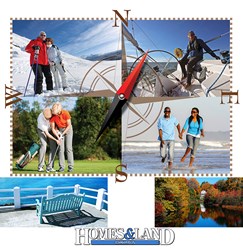 (PRWEB) September 05, 2013
REALTORS® with waterfront, recreation and vacation get-away properties for sale, would be wise to advertise direct within the buyers market, these are properties that offer beach, golf community or other lifestyle amenities. October, November and January are key months for buyers to purchase these property types.
Edmonton and surrounding area is a direct market for selling waterfront, recreation, vacation and lifestyle properties. Advertising outside the property market area and in the buyers market expands the exposure of the property. Homes & Land Edmonton Magazine is the Leading Real Estate Magazine in the Edmonton and surrounding areas. and is a great publication to advertise "lifestyle" properties.
The key points that make Homes & Land Edmonton Magazine the best value in the Edmonton and surrounding area market, is a combination of print and online advertising. 22,000 magazines are printed of each issue.
Homes & Land Edmonton online exposure is impressive, with a syndicated nation wide reach of 30 million unique visitors monthly. Listings syndicated to over 10 web syndication partners including luxury sites:
dupontregistry.com/homes.
nytimes.com/pages/realestate/index.
online.wsj.com/public/page/news-real-estate-homes.
This directly benefits advertisers as the websites link back to advertiser's home pages, providing buyers with a user-friendly resource to gather information.
View Homes & Land Edmonton current magazine on-line:
http://www.homesandlandofedmonton.com/flippy
Contact:
Dean Skoubis, Publisher
Phone: (780) 953-9630
http://www.homesandlandofedmonton.com/Marketing/AdInfo.cfm
About Homes & Land Edmonton
Homes & Land of Edmonton in its 13th year is a targeted publication for Realtors®. Properties advertised in the magazine are also listed on Homes & Land Local & National web sites and on over 10 Syndicated Web Site Partners…giving incredible print & online exposure.