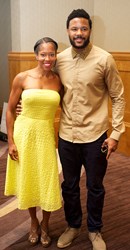 New Orleans, LA (PRWEB) September 05, 2013
Hairfinity®, the popular hair growth vitamin supplement by Brock Beauty Inc., sponsored The MegaLounge, the official VIP lounge at Bishop T.D. Jakes' three-day family festival, MegaFest in Dallas Labor Day weekend. The lounge provided swag bags and hair and make-up touch-ups to some of the biggest names in music, film, television, comedy and sports.
"We were honored to participate in such a powerful, positive event within the Christian community," said Tymeka Lawrence, president, Brock Beauty, Inc. "We wanted to provide a beauty service to the men and women attending MegaFest to ensure they were confident while delivering their inspiring messages. Hairfinity was a natural partner as we believe beauty exudes from within."
The Hairfinity ® MegaLounge provided hair and make-up for participants of the International Faith and Family Film Festival at the Omni Hotel. The inaugural event brought together entertainment executives and talent to discuss a host of topics, including marketing faith-based movies and the future of digital entertainment. Attendees were also treated to exclusive movie screenings such as the highly anticipated film, Winnie Mandela and BET's Let the Church Say Amen.
The MegaLounge hosted film festival panelists and special guests including: gospel singer Kim Burrell, actress Brely Evans (Sparkle), WME agent Charles King, diversity consultant Debra Langford, author Reshonda Tate-Billingsley (Let the Church Say Amen), Essence's Editor-at-Large Mikki Taylor, entertainment publicist Tosha Whitten-Griggs, Variety's managing editor Kristin Wilder and journalist/news anchor Soledad O'Brien, who also screened the latest installment of CNN's Black in America.
In addition, actress Megan Good (Deception) and her husband, Sony executive and minister DeVon Franklin relaxed in the lounge before their panels. Actor/director Robert Townsend, actor Hosea Chanchez (The Game) and actresses Kerry Washington (Scandal) and Regina King (Southland) also enjoyed time in the glamorous VIP room.
Following the daytime events, the MegaLounge also provided pampering for several evening events, including the Just Churchin' Comedy Show hosted by Cedric the Entertainer and Niecy Nash at the Dallas Convention Center. Both male and female comics were encouraged to visit the "glam" room for some last minute touch-ups before they hit the stage.
Festivities within the Hairfinity® MegaLounge concluded on Saturday with the Women of Purpose Concert hosted by comedian Steve Harvey at the American Airline Center. Gospel duo Erica and Tina Campbell of Mary Mary and songtresses Jennifer Hudson, Brandy and Tamar Braxton chatted in the lounge before their performances. Bishop Jakes and his wife Serita also stopped by, along with actress Tisha Campbell-Martin, actor Robbie Jones (Temptation) and Laura Govan (Basketball Wives LA).
About Brock Beauty
Brock Beauty, Inc. is an innovative natural hair and skin care company committed to delivering lasting results and affordable, healthy solutions to enhance and preserve your natural beauty. Founded in 2004, Brock Beauty has created advanced natural formulas for hair and skin care, with a special emphasis on growth and maintenance, that can be found in their popular line of products including: Hairfinity ®, Essentious ®, Dermera®, Dermera Glow® and Infinite Lash®.
About Hairfinity
Hairfinity® is Brock Beauty's best-selling product, and is a nutritional supplement that contains essential nutrients for healthy hair. This potent and effective formula contains Vitamins Ac, C, and D, a B-Vitamin Complex, Biotin, MSM, and more. Two capsules are taken per day, and each bottle contains a one month supply. Hairfinity vitamins can help your achieve longer, stronger, healthier looking hair. Results can be seen in as little as one month.