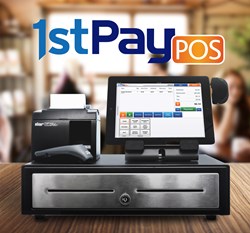 Fort Worth, Texas (PRWEB) September 05, 2013
First American Payment Systems, an industry leading payments processor, is excited to introduce the new 1stPayPOS™ tablet point-of-sale system. 1stPayPOS™ is an economical, cloud-based, payment application designed for brick and mortar businesses of all sizes looking to replace antiquated, expensive cash registers with secure, robust payment acceptance and reporting capabilities.
"We pride ourselves in listening to our business customers and delivering solutions that help them better manage expenses and reconciliation, while driving sales and profits. With the 1stPayPOS™ system, business owners have one-touch access to analytics while improving the customer experience at the point of sale," said CEO, Neil Randel. "Our merchants are enthusiastic about 1stPayPOS™ as a way to track cash and credit sales and provide their customers with more payment options, such as PayPal retail cards."
1stPayPOS™ was engineered to provide a turnkey solution for businesses and is available as a free download from the Apple App Store. The initial Retail Package includes a sleek tablet stand, cash drawer, receipt printer and encrypted card reader to ensure every transaction is secure. Future releases are scheduled to include applications specifically designed for restaurant and salon owners.
1stPayPOS™ is an economical alternative to traditional point-of-sale software and terminals with features such as:

Customized product modifiers
Split tender
Auto calculation of sales tax and change due
Permission-based user roles
Cloud server backup
Sales analytics and reporting
Free application updates
"1stPayPOS™ empowers businesses. It is easy to install and easy to use. Best of all, it is a solution that any business can afford, is backed by 24/7 customer support, and provides scalability to expand as a business grows," said Rick Rizenbergs, Executive Vice President of Sales and Marketing.
For a full list of 1stPayPOS™ features and benefits, or to sign up for the 1stPayPOS™ newsletter for future developments, visit http://www.1stpaypos.com.
About First American Payment Systems
First American Payment Systems, L.P., based in Fort Worth, Texas, is a payment processor that provides comprehensive electronic transaction processing services for more than 140,000 merchants throughout the United States and Canada. In addition to credit, debit and EBT card processing, First American offers a complete line of proprietary products and services to businesses and non-profits, including M+Terminal® mobile solution, Secur-Chex® check services, FirstAdvantage® gift cards, FirstPay.Net™ e-commerce solutions, FirstFund® ACH software, Govolution® government e-payments, national ATM sales, and Merimac Capital® point-of-sale equipment and ATM leasing. For more information, visit http://www.first-american.net