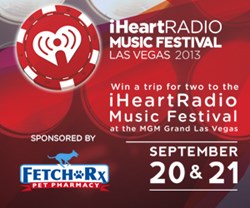 Asheville, NC (PRWEB) September 05, 2013
After nearly two thousand entries into its iHeart Radio Music Festival, FetchRx Pet Pharmacy, based in Asheville, North Carolina, is happy to announce the winner of the contest. Heather Dodd of Washington state was randomly selected and will be traveling to Nevada with a guest of her choice. Congratulations Heather!
The contest, which ran through August, 2013, has received a lot of attention. The fledgling, online pet supply company followed suit with many other businesses around the country to offer free tickets for the concert which sold out shortly after tickets were offered.
The contest winner will be receiving 2 VIP tickets, as well as free airfare and hotel accommodations to iHeart Radio's Radio Music Festival in Las Vegas, Nevada this September 20 and 21. Musicians, including Elton John, Katy Perry, Keith Urban and Queen will be appearing Friday night, followed by Tim McGraw, Justin Timberlake, Maroon 5, and Bruno Mars to create one of the biggest concerts in the nation is the fabulous MGM Grand Garden Arena and along the Vegas strip on The Lot. This outdoor venue will feature Miley Cyrus, The Band Perry, Cher Llyod and AWOLNATION, just to name a few, who will perform in the outdoor area during the day from 10-4. Following this, the winner will move indoors to the Grand Garden Arena to top off the night.
"I'm so excited to be going!" says Heather. "We love music and Vegas, so this is the perfect trip. Thanks, FetchRx Pet Pharmacy!"
Customers are encouraged to watch for more deals, contests and offers on the fetchrx.com website. And while visitors are on the website, FecthRx Pet Pharmacy suggests customers take a look at the fantastic products the company offers customers and their pets. For top-brand names at bargain prices, no one beats FetchRx Pet Pharmacy—because your pets deserve the best!