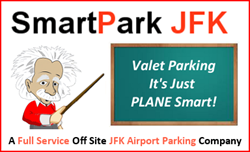 More Vouchers Sold With Amazon Local Than Any Other Voucher Site
South Ozone Park, Queens, NY (PRWEB) September 05, 2013
SmartPark JFK Airport Parking Facility announces that Amazon Local Deals is their 2013 preferred voucher portal for getting Airport parking deals to new and existing customers alike. There were more voucher deals sold on Amazon Local for SmartPark JFK Airport parking than any other previous "deals" site on the internet.
Adam Smith, President of SmartPark JFK has been pleasantly surprised at the outcome from utilizing Amazon Local Deals. "Honestly, nobody dreamed that we would sell thousands of vouchers in such a short period of time," says Smith. He adds, "We are selling more vouchers than any other parking facility."
This JFK Airport parking facility is altering the parking landscape all in the name of customer loyalty. Thanks to the Amazon Local campaign, SmartPark JFK is increasing its frequent parker members, closing in on 30,000 members. "Since the launch of our June 2013 Amazon Local deal for JFK parking, SmartPark JFK has significantly increased its customer base. Our total number of customers has grown by more than 5%." says Smith.
Adam Smith also understands how to keep the momentum going and to ensure customers are satisfied and returning. "We were so delighted with the response from our Amazon Local deal in June 2013 that we decided to run another deal post-Labor Day 2013. It is currently running from 9/3/2013 to 11/22/2013," he says.
Smith also points out, "It has been particularly popular within the tri-state area. We are continuing our efforts on creating more awareness that JFK offsite valet parking is even an option for people. There are many people that think parking at the Airport is their only option. That is not the case. So, we spread the word to acquire new customers while still extending deals to our current customer base."
JFK parking customers are becoming the target of bait and switch deals. Some are offering a "pay a discount price" voucher deal, but if you go over in days stayed, these other facilities are likely to charge you the full rate for additional days. That is not the case with the SmartPark JFK deal.
SmartPark JFK has specifically designed their deal to fully benefit the customer. A true full service company with a crystal clear transparent deal. The more you park with SmartPark JFK, the more free days you can earn for future stays.