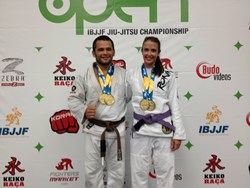 Training and competing has given me such confidence. - Katy Torralbas
Boston, MA (PRWEB) September 05, 2013
A husband and wife jiu jitsu team made history this weekend, becoming the first married couple to win double, double gold at an IBJFF tournament.
Roberto Torralbas won double gold in his brown belt weight class and absolute at the Boston International Open on Saturday, representing Team Lloyd Irvin. His wife Katy Torralbas did the same at purple, winning her weight and the open.
Roberto and Katy compete often, but doing it side by side isn't something they always get to do since they're often busy with the day-to-day operations of their school Third Law Brazilian Jiu Jitsu in Naples, Florida.
"At Pan Ams this year, she won her blue belt division on Thursday and I was still in Florida teaching class and following updates online," he said. "When I won on Saturday she was back there already running the school and watching me on the live feed. It was great this weekend to stand together on the top of the podium at the end of the day with four golds for our family."
The couple, together for seven years and married for almost three, spend a lot of time on the mats together these days. But it wasn't always that way.
Judo was the first martial art that Roberto Torralbas studied, training briefly as a child growing up in Cuba. He picked it up again when he was a student at Cornell University in upstate New York and it was there that he was first introduced to Brazilian jiu jitsu.
During his first jiu jitsu grappling session, a smaller guy armbared him again and again and Roberto was hooked. He was fascinated with the details of leverage and body mechanics in jiu jitsu techniques and how they allow a smaller, weaker person to defeat a much larger and stronger opponent.
Interest soon became an addiction, and Torralbas dedicated himself to training while also pursuing his degree. In 2006, in the span of just a few months, he won his first major tournament jiu jitsu tournament and became blue belt Pan American Champion, got promoted to purple belt and graduated from Cornell with a degree in Electrical and Computer Engineering.
It was also the same year he started dating his future wife, who was also a student at Cornell.
When life brought them to Southwest Florida after graduation, Roberto opened his own school and started building competitors in the southernmost part of the United States.
While Katy supported his passion, she never thought of trying it herself. After bad experiences in competitive sports as a child, she grew up believing she was not athletic.
Then, one day, frustrated with attempts to lose weight, Katy resolved to give jiu jitsu a try. She started training one time per week in her then-fiance's school's women-only class. Now, three and half years and 50 pounds later, she trains every day, teaches the women's classes at the school and competes alongside her husband.
"Training and competing has given me such confidence," she says. "First, jiu jitsu allowed me to gain control of my physical health and freed me from constant worry over weight. Now, it's a fascinating challenge that I look forward to studying every day and sharing with our students... especially women like me who often watch and wonder if they're even capable of doing this sport. The answer is always yes."
In the years since he first started training at Cornell, Roberto has competed around the world winning and placing at countless international tournaments representing Team Lloyd Irvin. In 2012 alone, he became No Gi Pan American Champion, No Gi World Champion and Pan American Champion in his brown belt heavyweight division. In the same year, Katy became blue belt Pan American Champion and World silver medalist.
Though medals are important milestones, this couple sees past them far into the future.
Their main goal is to be able to continue teaching the lessons they have learned from competing and training in the martial arts to their students for years to come.
Roberto and Katy both feel fortunate to have found such a beautiful art and to be deeply devoted to it, and they look forward to passing on the benefits of jiu jitsu to their kids one day.
For more information on Third Law BJJ please visit http://www.TeamThirdLaw.com or call 239-628-3529