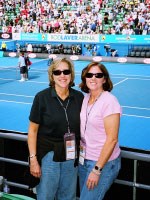 Multiple times in the last five years Grand Slam Tennis Tours clients have been handed the champions racquet on their way off the court!
Stowe, VT (PRWEB) September 05, 2013
As the US Open winds down, many tennis fans are probably watching the coverage from their couches, filled with regret at letting another year pass without attending one of tennis' four major tournaments. Now is the perfect time to ensure that does not happen next year by booking a travel package to the first, and most fan-friendly slam of 2014: the Australian Open.
The Australian Open in Melbourne is the most laidback and accessible of all the slams, and combined with Grand Slam Tennis Tours' unmatched hospitality, there is no better way to start the year as a tennis fan than to be there, in the first row! GSTT will put you in the front row to watch the best players in the world battle for the first leg of the Grand Slam. Sound too good to be true? Multiple times in the last five years Grand Slam Tennis Tours clients have been handed the champion's racquet on their way off the court!
One of the things that makes the Aussie Open so unique is its proximity to downtown Melbourne. Only a short walk away from the hotels and city center, the tennis and tourism experience is blended into one unbelievable vacation. Included in the packages are accommodations at the Stamford Plaza or Langham Hotel, amazing seats in either Rod Laver or HiSense Arena, welcome and farewell dinners, commemorative gift, services of the tour host, and hospitality at the venue. Chances are traveling all the way to Australia for a few days of tennis seems like far too short of a trip, in which case, GSTT will plan excursions for you all over Australasia. Go wine tasting, explore secluded beaches and picturesque resorts all over Australia, New Zealand and more. All packages are completely customizable, and airfare from Los Angeles can be included as well.
If you are ready to get away from the biting winter, love tennis, and are anxious to explore new, beautiful parts of the world, then an Australian Open travel package with Grand Slam Tennis Tours is perfect for you.
Grand Slam Tennis Tours, based in Stowe, VT, has been the industry leader in luxury tennis travel for twenty-five years. Offering travel packages to all four Grand Slams as well as many of the larger Masters series tournaments around the world, Grand Slam Tennis Tours prides themselves on personal customer service and tailoring clients' experiences to match their dream tennis vacation. Visit GrandSlamTennisTours.com for package details, dates, and pricing.