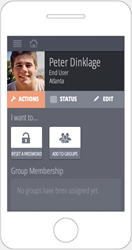 Portland, OR (PRWEB) September 06, 2013
Site9, Inc. today announced the winners of the ProtoShare Challenge, which awards designers, UX professionals and developers for the best interactive prototypes of websites, mobile sites or software applications created with ProtoShare, one of the industry's leading collaborative user interface prototyping tools. The $1000 Grand Prize was awarded to Barbara Miles of Better Cloud, for her compelling interactive prototype of a mobile application.
In addition, three prizes of $250 each were awarded for honorable mentions: William Drol of hfa, who built a deep interactive prototype of a non-profit web site; Matt Harper of Artonic, for his interactive prototype of a commercial web site and Dave Roach of Custom Software Lab, who also created an interactive prototype of a commercial web site.
Winners of the ProtoShare Challenge were selected based on the quality of the design, user experience, completeness and overall effectiveness of their interactive prototypes.
"Thank you ProtoShare team – I have used a few different prototyping tools throughout my career, and based on my experiences, ProtoShare has given me the best results," said ProtoShare Challenge winner Barbara Miles, UX Designer at BetterCloud, a provider of cloud management and security tools for Google Apps. "With style sheets and inline HTML you are able to create advanced design components for high fidelity prototypes, but you are also able to create simple wireframes with drag and drop elements that are easily edited on the fly. ProtoShare is great for collaboration. At BetterCloud we have offices in New York and Atlanta but are easily able to share prototypes with the marketing team and the development team to keep everyone on the same page," Miles added.
In addition to the winners, a few more entries were selected for their exemplary work in showing the types of high-fidelity prototypes that can be created with ProtoShare. All winning ProtoShare Challenge prototypes and other selected entries can be viewed on the prototyping examples page on the ProtoShare website.
"The winners of the ProtoShare Challenge created some truly inspired interactive prototypes," said Andrew Mottaz, Site9 president and founder. "We've always known that our customers were out there creating amazing, high-fidelity prototypes, but we were blown away by the level of depth and interactivity we saw in the prototypes entered in the Challenge. They not only conveyed ideas effectively, they showed a tremendous facility with the tool that really made their ideas shine through," Mottaz added.
About ProtoShare
ProtoShare is a web-based wireframing and prototyping tool for web and mobile sites and applications. It enables the rapid and collaborative creation of interactive prototypes with a WYSIWYG, drag-and-drop interface as well as advanced components users can customize. ProtoShare is not a Flash tool; it uses HTML, CSS, and JavaScript. For more information about ProtoShare, visit protoshare.com.
About Site9, Inc.
Founded in 1999, Site9, Inc. is the developer of ProtoShare. Fortune 500 companies, leading interactive agencies, and web developers in over 84 countries around the world use ProtoShare collaborative wireframe and prototyping software to deliver better digital experiences while cutting time and costs.
Media Contact:
Jennifer Allen Newton
Bluehouse Consulting Group, Inc.
Phone: 503.805.7540
jennifer(at)bluehousecg(dot)com