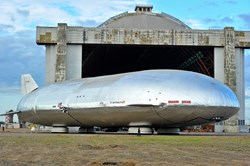 Los Angeles, CA (PRWEB) September 06, 2013
Aeroscraft manufacturer and operator, Aeros Corp., today announced receipt of an Airworthiness Certificate 'R&D' from the U.S. Federal Aviation Administration (FAA). The Airworthiness Certificate was granted on Saturday, August 31.
The FAA airworthiness certificate permits the 266-ft long Aeroscraft engineering vehicle to be operated in designated controlled airspace for the purpose of research and development, and allows Aeros to conduct flight activities enabling continued evaluation of vehicle systems like VTOL (Vertical Take-Off & Landing) capability, made possible by the Aeroscraft's proprietary COSH (Control of Static Heaviness) System.
"I'd like to personally thank the Aviation Safety Inspectors Cindy Napolitano and Kurt Krumlauf at the FAA for their professionalism and effective collaboration with Aeros over these many months, as this airworthiness certificate helps us move full speed ahead with testing desired to further accelerate Aeroscraft fleet development," explains Aeros' CEO Igor Pasternak.
The Aeroscraft is the only air vehicle of its kind. The rigid, variably buoyancy aircraft will establish new capacity for commercial and military clients as a global logistic solution, establishing the VTOL air cargo market for the 21st Century. The Aeroscraft combines attributes and benefits of fixed wing aircraft like airplanes, rotary aircraft like helicopters, and airships such as blimps or aerostats; however, the vehicle is distinct in its aerial operation because of Aeros' revolutionary and proprietary buoyancy management system, or COSH (control-of-static-heaviness) which enables true VTOL cargo operations.
The Aeroscraft 'Dragon Dream' aircraft incorporates this innovative variable buoyancy management system into a scaled down model roughly 1:2 scale of the forthcoming 66-ton cargo payload capacity transport Aeroscraft, or model ML866. Aeros' completion of the Aeroscraft "Dragon Dream" proof-of-design engineering air vehicle coincides with the achievement of the design, engineering and configuration of Aeros' ML866 and ML868 models, capable of vertically airlifting 66-tons and 250-ton of cargo respectively. The Aeroscraft ML866 and ML868 will cruise at about 100 knots, yet utilize much less fuel in operation because of the helium-provided lift -- about 1/3 the fuel consumption compared to comparable fixed wing aircraft. At max payload, the 66-ton ML 866 vehicle can vertically airlift and transport cargo up to 3,100 nautical miles without refueling, flying at a max speed of 120 knots.
The Aeroscraft fleet will be game changing due to a unique ability to take off and land vertically like a helicopter, hover, and reach locations that have no roads or places to land. The aircraft is similar to a giant 'flying submarine' because of its proprietary internal buoyancy management system that compresses inert helium within to overcome traditional requirements for external ballast exchange when unloading cargo from LTA vehicles at destination. This eliminates the need for ground personnel and supporting infrastructure and enables true VTOL flight at maximum payload, as well as new opportunities for commercial industries around the world in solving intermodal logistics and infrastructure development difficulties.
About the Aeroscraft: An Aeroscraft is a new type of Rigid Variable Buoyancy Air Vehicle, designed to control lift in all stages of air or ground operations, including the ability to off-load heavy payloads without the need to re-ballast. For the first time in history, an aircraft has been designed to control and adjust buoyant and dynamic lift, creating a new paradigm for global air transportation and logistics. Poised to enhance the air transportation industry, the Aeroscraft will deliver opportunities for business and consumers globally through access to remote locations and by new VTOL cargo delivery capabilities. The key features of the Aeroscraft include a rigid structure, vertical takeoff and landing, and operational abilities at low speed, in hover, and from unprepared surfaces.
The Aeroscraft Solution: The Aeroscraft vehicle is a vertical logistical solution to many of the difficulties facing the cargo world today, and is poised to disrupt the current hub-and-spoke distributional model characterized by intermodal cargo transfers and distribution delays. The benefits of the Aeroscraft are expected to be globally transformational and significant to humanity. The Aeroscraft fleet will introduce global point-to-point air cargo delivery services for oversized and overweight project cargos, as well as general cargo, with capability to deliver to virtually any topographical location in under 72 hours. The network of globally positioned Aeroscraft vehicles will help take the chain out of the current supply chain while providing Aeros' clients unlimited transcontinental reach.
About Aeros: Aeros was founded in 1987, and the company has grown from a small advertising aerostat production manufacturer overseas to a premier U.S-based airship producer and R&D firm for the aerospace industry. Today Aeros is the most innovative FAA certified LTA manufacturer completing exciting work on a new type of air vehicle called an Aeroscraft that combines many of the attributes and benefits of fixed-wing (airplanes), rotary (helicopter) and traditional lighter-than-air (LTA) aircraft. Through their exceptional manufacturing quality, Aeros has achieved multiple FAA airship type certificates and operates with an FAA Production Certificate. Aeros currently boasts an extraordinary product line that includes the most advanced airships and tethered aerostats utilized in commercial and government applications throughout the world. For the past quarter century, Aeros has pioneered new product advancements in the aerospace defense technology sector, which has been a strong contributing factor in maintaining continuous corporate growth. The entire Aeros organization and the advisory board, comprised of military and commercial leaders, are dedicated to one goal of harnessing the exciting future and opportunities ahead.