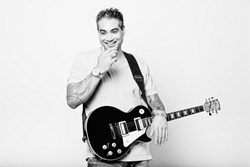 My musical palate is ever-expanding, and I'm glad the internet has given me yet another way to share that with the world.
Fort Lauderdale, Florida (PRWEB) September 04, 2013
While many people use the internet as a means to stay in touch, Dyce Kimura views it as an opportunity to make the world just a little more musical. With over 27 years of musical experience behind him, Dyce Kimura is thrilled to announce a new website where students of all ages can register for Skype guitar lessons. Continuously intrigued by all genres, Kimura has the ability to teach students anything they want to learn in styles ranging from country to bluegrass to pop. "My musical palate is ever-expanding, and I'm glad the internet has given me yet another way to share that with the world," says Kimura.
One of the most interesting aspects of Skype guitar lessons is Kimura's ability to interact with students all over the world. From New York City to Manila, Philippines, Kimura is excited to offer online beginner acoustic guitar lessons to anyone who wants to learn. But Skype lessons aren't the only offering on Dyce Kimura's new website. For complete beginners who want to learn at their own pace, Kimura is offering the Absolute Beginners DVD for direct download. This 11 part series covers all the topics that beginner musicians need to know in order to establish a musical foothold in the world.
Prior to the launch of his website, Kimura has maintained years of teaching experience outside of his career as a professional musician. He is one of the most in-demand studio musicians for artists, bands, and rock n' roll groups alike. When he isn't in the studio or performing live, Kimura enjoys playing worship music and serving the worship ministry as music leader. Those who have known Dyce Kimura and have taken lessons from him before are excited about his new online beginner acoustic guitar lessons.
Aspiring musicians know how difficult it can be to find a quality teacher. Whether they live in a rural area or live in a remote area of the world, it can take years to find a teacher with experience as a professional and the ability to teach complex musical concepts easily. Through the internet, though, Dyce Kimura now has the opportunity to teach anyone anywhere – and he is thrilled to extend that opportunity through his website. "Music is a language that keeps us all connected, just as the internet keeps us connected," says Kimura. "How fitting that the two can work in tandem."
Dyce Kimura is a professional musician based in Fort Lauderdale, FL. You can learn more about Kimura and his online lessons through his official website.
Contact: http://www.skypeguitarlessonsonline.com/.