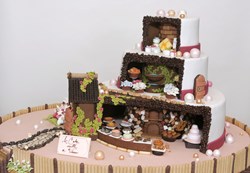 Half Moon Bay, California (PRWEB) September 06, 2013
The Ritz-Carlton, Half Moon Bay is proud to present the Tenth Annual Gingerbread House Competition, a benefit for Coastside Children's Programs. This time honored holiday tradition decks the halls of the resort from December 2 through December 8, 2013 with winners announced at the resort's Holiday Tree Lighting Celebration on Sunday, December 8 at 4:30 p.m.
Pastry chefs from all over the Bay Area, both professional and self-taught, create amazing edible gingerbread homes, all in an effort to be named best of the best. A panel of judges selects the winner in each category including children (12 and younger), home cooks, and culinary school students and professional chefs. To qualify, all materials used in the gingerbread house must be edible, with the exception of the support structure or frame, lighting and flat base. All houses must also measure a maximum of 3'x3'x3' and be supported by a strong flat base that is fully transportable.
In addition to be on display at the resort, the Gingerbread Houses are also featured in an online auction and can be bid on at biddingforgood.com/ccp.
How to Enter
The contest is complimentary to enter and a completed entry form must be submitted in advance for each creation. The deadline for submission of entry forms is November 22, 2013 without exception. Entry forms may be picked up in advance at the resort and mailed to Ginger Wills at Coastside Children's Programs 494 Miramontes Avenue, Half Moon Bay, California 94019. Forms may also be faxed to (650) 726-5660.
Completed Gingerbread Houses are accepted at the resort's main entrance at One Miramontes Point Road in Half Moon Bay Sunday, December 1 and Monday, December 2, between the hours of 9 a.m. to 3 p.m. Houses entered after 3 p.m. on Monday, December 2 will not be eligible for judging, but will still be displayed and entered into the silent auction. Entrants are responsible for transporting their Gingerbread House to the resort. All entries not donated to Coastside Children's Programs must be picked up from the resort by 5 p.m. Monday, December 9, or they will be discarded or donated to charity.
# # #
About Coastside Children's Programs
Coastside Children's Programs' mission is to provide high quality care and learning skill development for Coastside children. Their vision is that Coastside children have the character and tools to create a successful future in school and beyond. The nonprofit agency has been serving children and families from diverse multicultural and socio-economic backgrounds since 1975. It administers child care and development centers that provide quality educational, recreational and skill-building activities through a preschool, and before and after school programs, as well as full-time activities during the summer. Its teachers create a fun, nurturing and safe environment for children to learn at their highest potential.
About The Ritz-Carlton, Half Moon Bay
Situated 23 miles southwest of the San Francisco International Airport, The Ritz-Carlton, Half Moon Bay is a 261-room destination spa and golf coastal resort and the San Francisco Bay Area's only oceanfront resort. Set atop a rugged bluff overlooking 50 miles of pristine California coastline, the timeless oceanfront estate provides guests with a relaxed yet refined experience, whether for a romantic getaway, meeting or special event. For more information on fall activities, please contact The Ritz-Carlton, Half Moon Bay at 650-712-7000. For room reservations, contact your travel professional, visit http://www.ritzcarlton.com/hmb or call Ritz-Carlton worldwide reservations at (800) 241-3333. Visit http://www.experiencehalfmoonbay.com to learn more about the destination.
About The Ritz-Carlton Hotel Company, L.L.C.
The Ritz-Carlton Hotel Company, L.L.C. of Chevy Chase, Md., currently operates 80 hotels in the Americas, Europe, Asia, the Middle East, Africa, and the Caribbean. More than 30 hotel and residential projects are under development around the globe. The Ritz-Carlton is the only service company to have twice earned the prestigious Malcolm Baldrige National Quality Award which recognizes outstanding customer service. For more information, or reservations, contact a travel professional, call toll free in the U.S. 1-800-241-3333, or visit the company website at http://www.ritzcarlton.com. The Ritz-Carlton Hotel Company, L.L.C. is a wholly owned subsidiary of Marriott International, Inc.