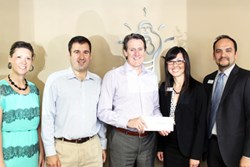 (PRWEB) September 10, 2013
Bank of America has awarded Century and Valley High Schools THINK Together Teen, THINK Together's afterschool and summer high school program, a grant for $20,000. The grant is part of the bank's focus on workforce development and education initiatives.
Each year, THINK Together Teen provides academic support through tutoring, California High School Exit Examination preparation classes, credit recovery programs, and career readiness programs to over 2,000 students each year at Century and Valley High School. THINK Together is building upon these programs with a comprehensive Workforce Readiness and Employment Program with paid internships for 40 juniors and seniors (ages 16-19) at Century and Valley High Schools. The support received from Bank of America will provide sustainability to the readiness program.
"THINK Together Teen is among 16 Orange County nonprofits to receive a cumulative total of more than $250,000 this year from the Bank of America Charitable Foundation for workforce development. In addition to the grant, which supports THINK Together Teen's work in Orange County's low and moderate income communities, Bank of America employees in Orange County also volunteer time to work with THINK Together in various capacities," said Colleen Haggerty, senior vice president for Bank of America media relations.
Students will participate in job skills workshops and trainings. Students will apply for and secure positions utilizing an employment process that replicates the real world process. They will also participate in workshops focused on application submission, resume building, and interview skills, as well as specific trainings for the positions they will hold.
THINK Together's Human Capital staff will conduct the interviews and training for the students with the same manner and rigor that new employees are on-boarded to THINK Together's staffing platform. After four weeks of recruitment and training, each employment session will be ten weeks. Students will be expected to work two days per week for two hours per day.
Students will also be expected to provide one day of community service. Students will be able to select, design, and implement community service learning projects that are of interest to them. For the remaining two days of the week, students will participate in THINK Together Teen's academic support program. In addition to their paid employment, students will receive bus passes, if needed, and program incentives. A Financial Literacy component will also be required as part of the program to ensure that students participants receive a complete workforce readiness experience.
The Workforce Readiness and Employment Program is integrated into various academic supports offered through THINK Together Teen (T3), including multiple models of Credit Recovery programming which research has shown is a key support toward high school graduation. These models include direct instruction, digital instruction, and blended instruction methods, which are used to deliver curriculum and may include the recovery of elective credits, required graduation credits, and A-G required subject credits. The program also offers preparation classes for the California High School Exit Exam (CAHSEE) for all 9th and 10th grade students, which include a targeted intervention class for students who are at risk of not passing the CAHSEE on their first attempt in the 10th grade. The program also serves 11th and 12th grade students that have not yet passed the CAHSEE. Results from each student's previous CAHSEE performance determine the specific focus of their instruction.
College Readiness Workshops will also be offered which help students and their parents navigate the admission process, seek financial aid resources like the Cal Grant Program, and meet testing and document submission deadlines, as well as actually provide direct support and hands-on assistance throughout the application process. Included are college visit field trips, which help contextualize higher education as a realistically achievable goal for all students.
About THINK Together
THINK Together is one of the leading and largest nonprofit providers of academic support programs (early literacy, after-school, summer learning, etc.) in the U.S., serving more than 140,000 students across 440-plus locations from San Diego to Sacramento. Partnering with school administrators and teachers, its academically oriented programs and dedicated team of nearly 3,000 employees are helping students close the achievement gap. THINK is an acronym: Teaching, Helping, Inspiring & Nurturing Kids. For more information, call (888) 485-THINK or visit http://www.THINKtogether.org or http://www.facebook.com/THINKtogether.