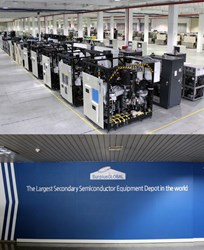 San Jose, CA (PRWEB) September 04, 2013
On September 4, 2013, SurplusGLOBAL, a global leader in the secondary equipment market, has started to sell about five hundred units of used semiconductor equipment after opening the largest used semiconductor equipment depot. This depot measures 11,900 square-meters, is temperature and humidity controlled, and is located in Osan, South Korea.
This SurplusGLOBAL depot is the largest facility which stores and sells semiconductor equipment in the world. SurplusGLOBAL encourages customers to visit and view equipment in the showroom which is sorted by process and tool types. It displays more than 500 tools of 300 different kinds of semiconductor equipment which has been purchased from ten countries such as the US, Japan, Taiwan, Europe, Singapore, and China.
SurplusGLOBAL's main facility in Korea measures approximately 28,000 square-meters, consists of temperature and humidity controlled storage and work areas for inspection and display. SurplusGLOBAL has displayed and sold more than 1,200 tools, with tool inventory of almost $2 billion on the basis of the new semiconductor equipment pricing.
SurplusGLOBAL CEO Bruce Kim said, "We can help our customers with the difficulty of purchasing. Our target is to supply systems promptly and trustworthily. We expect the Osan equipment depot to become a one-stop solution. In the medium-to-long term, we have a plan to provide the capability to reconfigure used semiconductor equipment clusters. This will provide a one-stop shop for all our customers' needs such as purchasing, marketing, storage, display, testing and refurbishment."
The Asian secondary semiconductor equipment market has been experiencing continued growth. The market size is estimated about $3 billion. SurplusGLOBAL has grown rapidly for the last ten years and continues to do business frequently in many parts of the world. SurplusGLOBAL is planning to build used semiconductor equipment display stores in Taiwan and China in the future.
Since launching in 2000, SurplusGLOBAL, Inc. has advanced to become a leading supplier and trader for Secondary Semiconductor Equipment globally. SurplusGLOBAL has clients in more than 40 countries. With proven track records, SurplusGLOBAL has done business with most of the top 50 semiconductor manufacturers worldwide. SurplusGLOBAL's marketing specialists are located in the United States, Korea, China and Taiwan, providing the best solutions to our customers by the international team.