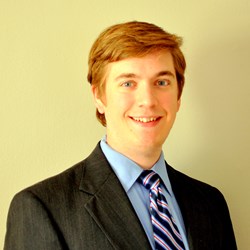 What attracted me to AirTight is that it's not only making cloud deployments solid on the backend, but it also brings ease-of-use to a whole new level. AirTight's social Wi-Fi is a cherry on top!
Mountain View, CA (PRWEB) September 05, 2013
AirTight® Networks, a global provider of secure cloud-managed Wi-Fi solutions, today announced the hiring of Andrew von Nagy as director of evangelism. He is a recognized wireless LAN networking expert with over 12 years of experience in the education and retail industries and holds the industry's two highest certifications – CCIE-W from Cisco Systems and CWNE from CWNP.
"The Wi-Fi industry is moving towards providing software solutions that match specific industry requirements, not just hardware speeds and feeds," says von Nagy. "Cloud architecture is ideally positioned to meet these needs, as it allows for rapid product innovation and ease of adoption. More importantly, cloud Wi-Fi enables the buyer to focus on their business and their core competencies – customer service and enhanced user experience, – rather than on trying to master the latest technology."
Andrew von Nagy joins AirTight from Aerohive Networks where he served as senior Wi-Fi architect. Prior to Aerohive, von Nagy held a position of technical architect at Target Corporation, a Fortune 100 retailer, where he was responsible for a global wireless network across thousands of stores and distribution centers, establishing and communicating IT infrastructure strategy to the CIO and executive audiences.
"Evangelism's mission at AirTight is to position the company at the forefront of customer-driven innovation within the Wi-Fi industry," says Devin Akin, chief evangelist at AirTight. "I am thrilled to have Andrew on board. Together we are bringing "fun" back into Wi-Fi – meaning that the technology should be easy and exciting to use for our customers and partners, regardless of their level of expertise."
"Many industries are going through a technological transition, especially service-oriented ones, where customers are more connected and better informed than ever before," adds von Nagy. "Retail, hospitality, education, healthcare, and financial institutions are all looking to leverage Wi-Fi to enhance customer relationships. What attracted me to AirTight is that it's not only making cloud deployments solid on the backend, but it also brings ease-of-use to a whole new level. AirTight's social Wi-Fi is a cherry on top!"
In his spare time, von Nagy writes about relevant Wi-Fi industry topics on his Revolution Wi-Fi blog, which provides independent analysis on the wireless LAN market for technical audiences. He has also served as a technical editor for wireless LAN publications, including the CWNA Study Guide: 3rd Edition and 802.11n: A Survival Guide.
AirTight recently launched a free AP trial program to enable enterprise IT departments to get a first-hand, fun experience with AirTight Wi-Fi. To find out more, visit: http://go.airtightnetworks.com/Free-AirTight-AP.html.
Additional Links:

About AirTight Networks
AirTight Networks is the global leader in secure Cloud Wi-Fi solutions. The company's award winning family of products and cloud services brings together a true carrier-class multitenant cloud architecture, breakthroughs in Wi-Fi analytics, manageability, ease-of-deployment and cost-effectiveness, as well as AirTight's longtime top-rated WIPS technology. AirTight's global customer base consists of leading enterprises in the government, financial, technology/telecom, manufacturing, health care, retail and hospitality sectors.
Media Contacts:
press(at)airtightnetworks(dot)com
AirTight is a registered trademark of AirTight Networks; the AirTight Networks logo, and Marker Packet are trademarks of AirTight Networks, Inc. All other trademarks are the property of their respective owners.