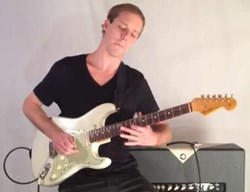 New york, NY (PRWEB) September 05, 2013
Guitar Control has released "Lead Guitar Lesson - Learn This Cool Rock blues Guitar Lick" the latest in their series of free instructional videos that are available on YouTube. This video from Guitar Control, the leader in comprehensive DVD-based courses and on-line lessons, features the LA-based session guitarist and recording artist: Jon MacLennan.
"Lead Guitar Lesson - Learn This Cool Rock blues Guitar Lick" focuses on a simple, but somewhat "iconic", rock guitar lick that use been used by such notables as Jimmy Page, Angus Young, and Jimi Hendrix in their solos. The lick itself is comprised of four notes that become six tones, when the strings are bent on the first and fourth notes. Beginning on the twelfth fret on the G string, the G note is embellished with a full-step bend. The following notes, an A and an E, on the tenth fret of the B and (high) E strings, are picked cleanly. They are followed in turn by the C note on the thirteenth fret of the B string, which is also bent a full step.
This simple lick has been so commonly used that MacLennan dubs it "one of the most overplayed rock clichés of all time." But that does not mean it lacks value. As Jon goes on to demonstrate, the lick gains power when the player incorporates a "repeated figure," a sequence where the notes of the lick are played several times in succession, a repetition that emphasizes the theme of the lick and creates space between the start and finishing bends. And he shows how a final F note bend (13th fret, high E string) can be substituted to produce a different sound, the kind of substitution that he encourages the student to explore on his or her own.
An accomplished and sought after session musician on the LA music scene, Jon MacLennan has composed music for films and television, has recorded three albums, including the 2013 release "Songs From Box Canyon." In addition, MacLennan is highly respected educator, having held a private guitar instructor's chair in the Department Of Music at Los Angeles Pierce College. But credits aside, it is the enthusiasm and clarity of his lessons that makes them so useful to students at all levels.
Guitar Control is a consortium of professional guitarists dedicated to providing the highest quality musical instruction. Producing both web-streamed lessons and comprehensive multi-DVD courses, Guitar Control offers instruction for every style of playing and for all musical genres. Guitar Control's YouTube channel offers 378 (and counting) free video lessons.
MacLennan calls this lick "overplayed" but emphasizes that the ideas behind it and and the techniques employed are important to know. "Cliché" it may be, but Jon's bottom line is "pick up your guitar and learn this lick right now."