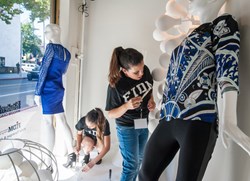 Los Angeles, CA (PRWEB) September 06, 2013
On July 25, 2013, students from the fashion college FIDM/Fashion Institute of Design & Merchandising's Visual Communications Program were selected to participate in the DDI Magazine and Saks Fifth Avenue West Coast Student Window Design Challenge. The students were paired up in three teams of two for the all-day challenge at Saks Fifth Avenue Beverly Hills. The students were assigned visual carts containing props, fabrics, forms, and mannequins (all of which were unknown until the students unpacked the visual elements the morning of the event). They then had eight hours to come up with a design theme using the visual elements.
Each student team had a Saks Fifth Avenue Visual Team member mentor them for the day. Once the time was up to complete the challenge, the windows were judged by an industry panel from DDI and SFA, including DDI Executive Editor Alison Embrey Medina, Matt Reed, VP Visual Merchandising, Saks Fifth Avenue New York, and Michael Bewley, Project Manager, Saks Fifth Avenue. The announcement of the winning team was celebrated with a reception at Saks Fifth Avenue new Men's Denim department "D-Bar." The winning student team consisted of James Ryerson and Natalie Kunkle.
FIDM/Fashion Institute of Design & Merchandising is a co-educational, specialized, private college dedicated to educating students for the Fashion, Graphics, Interior Design, and Entertainment industries. Known as one of the top fashion design schools, FIDM is also a leading graphic design school and digital media college. Visit fidm.edu for more information.