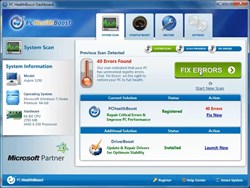 Software affiliates who want to earn an extra $150 may want to check into the Boost Affiliates program for the PC HealthBoost™ PC optimization software.
Boston, MA (PRWEB) September 05, 2013
Software affiliates who want to earn an extra $150 may want to check into the Boost Affiliates program for the PC HealthBoost™ PC optimization software. Parent company Boost Software™ is offering the bonus to promote the company's new affiliation with ClickBank. Affiliates who are new to the program can earn the extra money just for testing out the offer.
"We're sure that PC Health Boost™ can match or beat similar affiliate offers," says Amit Mehta, CEO and co-founder of Boost Software™. "It's performed very well over the past three years. We're sure it will beat out other offers so well that we're willing to pay $150 to affiliates who test it. It's something that will work out well for everyone, and our sales will back that up."
How exactly do affiliates become eligible for the $150 bonus? They must meet a few conditions that Boost Affiliates sets up in order to weed out errors and reduce potential fraud.
First, only affiliates new to the Boost Affiliates program via ClickBank are eligible for the bonus. The company makes no distinction between first-time software affiliates versus veterans of the software industry. All that matters is that eligible affiliates will not have promoted PC HealthBoost™ via ClickBank at any time in the past.
Second, affiliates must prove that they have made a reasonable effort to market the software. Otherwise, the owners claim, it would be all-too-easy for anyone seeking a quick dollar to claim the bonus—without ever doing any work at all. It's a proposition that few business owners would want to take on without safeguarding themselves to make sure they were legitimate sales.
What constitutes a reasonable effort to market the software? Affiliates must net at least 5 sales of PC HealthBoost™. This equates to having five sales of the software once refund requests and returns are factored in. Fortunately for all Boost Affiliates, the software has a refund rate of around 3%—much lower than many of the offers on ClickBank.
With such a lucrative bonus, how can the Boost Affiliates program ensure the money only goes to active affiliates, and not to those who cajole friends and family or (as has happened with other programs) who use stolen information to purchase the product?
Boost Software™ guards against this kind of misrepresentation by requiring that the five sales be from five different geographic locations. These locations can be different states, different territories, different countries, or any combination of the above.
Finally, to ensure that the bonus only goes out to serious affiliates instead of those who may try to hawk a sale on occasion, when only convenient, the Boost Affiliates bonus program requires all sales to be made within 7 days of each other. In other words, once an affiliate makes that first sale, he or she must make the rest of the five sales within one week's time.
Any affiliate who qualifies for the bonus will then need to email their ClickBank affiliate ID and PayPal address to Boost Software. The sales will then be verified and, if legitimate, the affiliate will be paid within 72 hours of submitting the information.
Boost Software™ was founded by super affiliates, Amit Mehta and Peter Dunbar. They created PC HealthBoost™ after seeing the dearth of quality offerings in the registry cleaner and PC optimization tool space. They have sold the software since 2010, continually testing and updating landing pages, creative, PPC ads, and other important elements. Affiliates old and new who are interested in the $150 bonus program can find out more at BoostAffiliates.com.