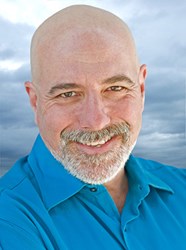 "I will continue to talk about health issues and especially the more natural ways to deal with them," says Dr. Garber
Santa Monica, CA (PRWEB) September 05, 2013
Newspapers are fast becoming a thing of the past. Although they are still struggling to survive, more people are turning to their computers to find out what's going on in the world. According to USNew.com, "More Americans are getting their news from the Internet." Arianna Huffington jumped in early and The Huffington Post is the most well-known online news aggregator.
The Huffington Post has increased readership at unprecedented rate since it's inception in 2005. The Huffington Post was ranked #1 on the 15 Most Popular Political Sites list by eBizMBA Rank, which bases its list on each site's Alexa Global Traffic Rank and U.S. Traffic Rank from both Compete and Quantcast.
Consumers look to websites for a variety of subjects. Self-diagnosing via the internet has been on the rise, along with consumers seeking answers to medical questions and healthy alternatives. The Huffington Post is known for offering cutting edge news with a progressive slant, featuring tops writers in their field. Offering alternative options in the medical field is another important area of expertise that the site offers.
Dr. Patricia Fitzgerald, Huffington Post's Healthy Living editor had asked Dr. Stuart H. Garber to join the team and blog about health issues a couple months back. Dr. Garber's schedule kept him busy, until he heard about Arianna Huffington's stance on the importance of sleep in our everyday lives. The issue of natural sleep and the need to find ways to help the average person achieve it has been a priority for Dr. Garber in his practice. In fact he developed a sleep formula for this very problem. His "Sleep" formula is one of the best sellers from his line of holistic remedies, Dr. Garber's Natural Solutions®. Soon, the two connected and the rest is history.
Dr. Stuart H. Garber is no stranger to handing out health advice. A trusted member of the international holistic medical community, Dr. Garber was the first person in the U.S. to receive a Ph.D. degree in homeopathy. Dr. Garber is currently practicing in Santa Monica, CA and serves as president of the California Homeopathic Medical Society. He has written about health issues before, most recently for a health series in the Santa Monica Mirror as well as several articles in Whole Life Times. "I will continue to talk about health issues and especially the more natural ways to deal with them," says Dr. Garber.
Dr. Garber hopes to bring clarity to the oftentimes confusing information offered to the public. "There's so much misinformation out there. I really want to attempt to make sense of what's being presented in the media." With television shows such as Dr. Oz talking about holistic medicine, it has become more mainstream but it has also brought out more charlatans who offer unfounded cures.
Dr. Garber has been practicing holistic medicine since 1981 and is the creator of Dr. Garber's Natural Solutions®, a unique line of biotherapy formulas.
The product line includes remedies that effectively address many of the most common conditions while producing no harmful side effects. The formulas help conditions such as anxiety; environmental and seasonal issues; bone strength; constipation; depression; female hormonal balance; joint issues; lung, skin, and sleep disorders.
They have been recommended by doctors nationwide for ten years and are now available to the public here and abroad via select retail outlets such as Whole Foods Markets. They can also be purchased directly from the internet through Amazon and Dr. Garber's webstore.
Dr. Garber has lectured to the general public and has also addressed medical, dental, chiropractic, and acupuncture groups in the United States, Europe, Asia, and the Caribbean.
For more information about Dr. Stuart H. Garber, please check out his website imbedded below.