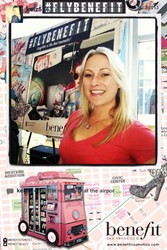 Social Media and Onsite Printing Photography creates the ultimate brand experience.
San Antonio, Tx (PRWEB) September 10, 2013
Professional Images Photography announces an upgrade to Event Photo Marketing and Onsite Printing Photography. A hashtag can now be used to print photos. Engaging customers to take photos with a smartphone or android device that has the Instagram or Twitter app is new way to create brand experience. Event Photo Marketing provides the solution to spread a brand message and create social media awareness to corporate events, concerts, and conventions.

Photos can be taken by a smartphone or android device.
Custom border designs can be created by Professional Images or client.
Photos are can be taken from a stationary location or roaming photographer.
Sharing photos using a hashtag, (example: #anyevent) is printed onsite.
Images are streamed live to client Facebook fan page.
Twitter photos are also printed and tweets displayed.
A brand ambassador can collect customer data for lead generation reports.
The Convention Photography season is here and the need for something different to draw attendees and create new business is important to the success of any Association Director, Convention Meeting Coordinator and Meeting Planner. Onsite Printing Photography and Event Photo Marketing is an important tool for business growth, brand awareness and customer engagement. Professional Images Photography is nationally known and recognized for Convention Photography and Event Photography Services. The commitment to bring new photography products and services is important to Joseph Rodriguez who is the founder and owner of Professional Images Photography.
About Professional Images Photography
Since 1987 Professional Images Photography has been providing Convention Photography, Onsite Printing Photography, SXSW Event Photography, Green Screen Printing Photography and Event Photo Marketing services Nationwide. Based in San Antonio, TX with offices in Houston, Orlando, Washington D.C. 1.888.486.3241.