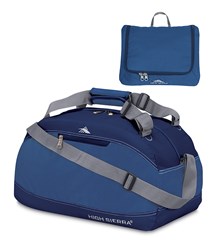 Duffel bags from JanSport and High Sierra work great for toting gym clothes between classes.
Boyd,WI (PRWEB) September 05, 2013
Back to school preparations can sometimes be tricky to think of everything ahead of time. A likely course to overlook preparing for is time after time, the required, less academic physical education course or gym class as most people call it.
Gym is a vital part to children's education! And it generally doesn't require any textbooks, notebooks, or folders. That doesn't mean it doesn't need any attention while in getting ready for the coming school year. Kids will need a change of clothes as well as a bag to carry them.
Lots of kids get duffel bags along with their footlockers for their summer camp stay. Why not use the duffel bag for a change of clothes in gym class? Some of the duffel bags from Everything Summer Camp are probably too big to be reasonable options for a bag for gym class. The Go Big Duffel Bag, for instance, is probably a little overkill for what's actually needed.
"Duffel bags from JanSport and High Sierra work great for toting gym clothes between classes," says Ed Holand, President of Everything Summer Camp—a leading summer camp outfitter.
The Pack N' Go Duffel from High Sierra can be carried like a duffel bag or like a backpack. And it's got an easy-access pocket for essentials and frequently needed items as it's never a bad idea to have your own stick of deodorant around after gym class or a bottle of water.
The classic, plain black duffel bag from JanSport is another good choice. Made with wrap handles and shoulder straps, this duffel can be carried like a backpack too. And the small one (20" x 12" x 10.5") boasts seven, convenient pockets on the outside.
So don't stick those dirty gym clothes in a backpack—bring a duffel bag and make life easier.
About Everything Summer Camp
Everything Summer Camp has been helping kids get ready for summer camp since 1987. Their wide selection of camping gear includes camp trunks and other camping supplies. Top selling items include water bottles, cot-sized bedding, rain jackets, insect repellent, iron on labels, and more. Known for their customer service and fast shipping Everything Summer Camp, a division of C&N Manufacturing, is recommended by more camps than any other camp outfitter.
Visit http://www.EverythingSummerCamp.com to learn more about camp footlockers, name labels, duffel bags, and camping supplies.