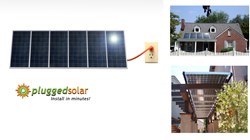 "In the future, installing a solar array for your home could be as easy as plugging in common household appliances, which are purchased, installed and operational in one day." Source: www.energy.gov
(PRWEB) September 05, 2013
PluggedSolar™ is a Plug & Play DIY Solar Panels kit that typically installs in one day. It plugs into the regular wall socket as you plug any appliance. The DIY kit is preconfigured and prewired, reduces the cost of solar, making the installation simple, saving the homeowners more than half of the typical solar installation cost. The system has UL-1741 approved Grid Tie Inverter, as required by utilities for net metering.
Why become a PluggedSolar Reseller?
PluggedSolar provides innovative solar energy products for home users and businesses across the country. As per Sunil Sinha, CEO, "We are the first company in the world to make solar power as easy as plugging an appliance. We have created breakthrough technology that is changing the way of traditional solar installations, making solar affordable for every customer. The PluggedSolar Reseller Program provides to our partners unique solar products, training, marketing material and support. We offer a series of packages, competitive and very affordable. Our partners will have a reliable product that they can offer to their new and existing customers."
Benefits of being a PluggedSolar Reseller:

Opportunity to venture into a unique product nonexistent on the market.
Very competitive sale prices, first time ever affordable price for solar.
Installation and maintenance service opportunity with direct benefit for the reseller.
Sales training provided on products and services.
Dedicated support team for resellers.
About our Product
Attractive product price unique on the market.
Never seen innovation on solar technology.
Makes solar energy available to regular house holders.
3 different models offered: Roof, Ground and Patio systems.
Warranty on solar panels and system.
Financing available.
Free customer support by email or phone.
It will produce benefit for the customers as soon as is connected.
UL listed and utility approved across U.S.
30% Federal Tax Rebate