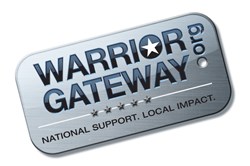 Crowdsourcing allows Warrior Gateway to reach veterans and military families that might be otherwise overlooked.
Arlington, VA (PRWEB) September 05, 2013
This Tuesday, September 10th, 2013, Warrior Gateway CEO, Devin B. Holmes will be presenting at the CrowdSourcing for Business & Social Impact Workshop in Redwood City, CA, to highlight the benefits and best practices of crowdsourcing from a nonprofit perspective. Attendees will learn firsthand about crowdsourcing trends and marketplaces from industry experts and network with fellow attendees and presenters. Warrior Gateway's strategy includes using crowdsourced volunteers to validate information about organizations serving the military community as well as crowdsourcing reviews from servicemembers, veterans and military families on programs they have participated in an Angie's List/Yelp style format.
"We are excited to be talking about how crowdsourced activities can help support our veterans and military families." said Warrior Gateway CEO, Devin B. Holmes. "From helping us grow our G.I. Network to providing employment opportunities for veterans, crowdsourcing allows us greater access to a valuable and often overlooked talent pool…veterans and military families."
Warrior Gateway's G.I. Network lists over 200,000 organizations serving the military community across the country. The G.I. Network was designed to be shared with other non-profits through an API to provide easier access to information for veterans and military families searching for organizations to help them. Crowdsourcing the accuracy of the data on the network is the most effective way to design a solution that supports the local community and has the most accurate and up to date information.
The range of presenters at this workshop displays crowdsourcing from both a nonprofit and for-profit business perspective. Crowdsourcing for Business & Social Impact aims to teach successful crowdsourcing, as well as showcase its social justice effects in a number of humanitarian causes, including the American veteran community. This workshop is free but space is limited, Warrior Gateway invites all those interested to register online at: http://goo.gl/Hs4WpU
About Warrior Gateway™: Founded in 2009, Warrior Gateway connects service members, military families, wounded warriors, families of the fallen and our nation's veterans with government and non-profit programs in their local community. Warrior Gateway harnesses state-of-the art technology and community collaboration to help today's military community make better decisions about what service provider they can go to for help. Their programs provide a public forum where people can share their experiences about the quality and effectiveness of those services. In 2011, Warrior Gateway's efforts were recognized with the Federal Computer Week Fed-100 award for significant contributions to the Federal IT community and in 2012 with a ComputerWorld Honors Laureate for our innovation in creating an open-source platform for information sharing. A proud partner of the Got Your 6 campaign, Warrior Gateway works to bridge the civilian-military divide with non-profit and government partners. Warrior Gateway is an IRS registered 501(c)3 organization. For more information, please visit: http://www.warriorgateway.org