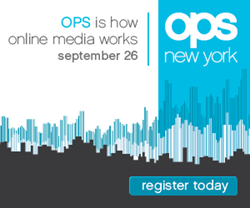 OPS NY is a like a one day postgraduate course covering the most important issues on the forefront of the digital advertising industry.
New York, NY (PRWEB) September 05, 2013
AdMonsters, the global leader in strategic insights on digital media and advertising strategy through its conferences and website, today announced the speaker lineup for its OPS Conference taking place in New York City the Thursday of Advertising Week, September 26, 2013.
Now in its fourth year, the theme for OPS 2013 is "How Online Media Works". At this unique one-day event, ad operations and media technology leaders will gather to discuss the ever-shifting media landscape and share best practices for remaining flexible, efficient and profitable.
"During the first few days of Advertising Week, attendees get a broad view of what's happening across many facets of the online advertising industry," said Rob Beeler, VP of Content and Media for AdMonsters. "At OPS on Thursday, we'll take a deeper dive into how it all works, with actionable insights and best practices that can be put into immediate play."
"Online media is continuing to evolve, and it's clear that business models, back-end processes and systems still have a long way to go before they stabilize. AdMonsters conferences provide an in-depth focus on ops and tech, the highest-quality content, and a uniquely connected and highly-valuable professional community of online media leaders," said Bowen Dwelle, CEO and Founder of Monsters. "OPS NY is a like a one day postgraduate course covering the most important issues on the forefront of our industry."
Speakers include:
John Battelle, Founder, Chair and CEO of Federated Media
Dave Skaff, Partner & Head of Creative of The Science Project
Erin Pettigrew, VP, Business Development at Gawker Media
James Del, Executive Director at Gawker Media
Patrick Gauthier, Head of Emerging Services at PayPal Enterprise Solutions
Georgia Lupi, Founder, Design Director at Accurat
Session topics include:
The Intersections of Content and Marketing
Using Neuroscience to Inform User Experience During Mobile Transactions
Coloring the Data Landscape Through Visualization
Connected Commerce: What's in Your Digital Wallet?
Session highlights include:
At the Intersection of Content and Marketing
The seemingly parallel streams of content and advertising are increasingly coming to a junction in the digital world, with branded content, native advertising and in-stream advertising in content feeds driving the merge. Federated Media founder and CEO John Battelle will dissect the situation and delineate paths to revenue success.
Coloring the Data Landscape Through Visualization
As the data collected and stores only grow and grow, visualization techniques are increasingly illuminating insight and narratives from within the vast swaths. Award-winning data visualist Giorgia Lupi of the firm Accurat will dive into the basics of visualization and detail how advertisers and publishers can use them to add color to their data efforts.
Connected Commerce: What's in Your Digital Wallet?
For decades now, advertising campaigns have been predicated on the notion of pushing messages, measuring responses statistically and adapting messages and tactics. The convergence of digital media and digital wallets are radically changing this dynamic, making possible a more direct and conversational approach with consumers. This session will outline eBay and PayPal's vision for a future of Connected Commerce that delivers higher consumer satisfaction and better advertiser results.
Sponsor supporting OPS include: Doubleclick by Google, AdTruth, Quantcast, Audience Accelerator by RocketFuel, TubeMogul, AdJuster, Acceleration, Lotame, Index by Casale Media and AddThis.
All AdMonsters conferences are focused on developing actionable solutions and best practices in response to today's digital media challenges. Attendees at OPS will have titles such as VP of Ad Operations, Director of Ad Operations, VP of Business Ops, Director of Business Ops, VP of Sales, Director of Sales, Account Director, VP of Solutions, SVP Publishing Services, Director of Digital Ad Platform Strategies, VP of Platform Solutions, Director of Client Development and more.
Registration is currently open for OPS NY and conference passes are available for $595.
For a complete list of speakers and sessions, to register for the conference or to inquire about available sponsorship opportunities, visit OPS NY.
About AdMonsters
Founded in 1999, AdMonsters is the global leader in providing strategic insight on the future of digital media and advertising technology through its conferences, website, research and consulting services. AdMonsters' focus is on media operations, monetization, technology, strategy, platforms and trends. Its conferences and website are the meeting place for this dynamic and expanding community to connect, gain insight, develop best practices and exchange thought leadership. AdMonsters' conferences include AdMonsters Publisher Forum, OPS, OPS Markets, OPS Mobile, OPS TV and AdMonsters Screens. In the early days of online media, the community was comprised largely of operations professionals at online publishers and advertising technology providers. Today's expanding ecosystem now includes publishers and content creators, agencies, SSPs, DMPs, DSPs, RTB and service providers, technology and platform developers, advertising networks, brands and investors. See http://www.admonsters.com for more info. Follow us on Twitter: @AdMonsters and Facebook.