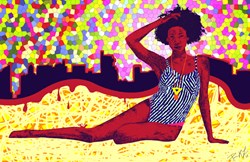 Kenal first discovered this style of colorful and strategic art.
Los Angeles, CA (PRWEB) September 05, 2013
The Psychology of color have been used in studies for development of brands identities, advertisement and event to make people feel a certain way. Pierre "Kenal" Louis is a graphic designer and visual artist that uses color to express his point of view of urban culture, fashion, and beauty in an artistic way. "Mona Sur La Plage Urbaine" is a Fall piece inspired by the Summer by the artist now available for prints online at Kenalsworld.
Kenal is a visual artist that was born in Haiti; he is a talented digital graphic artist whose works has been recognized since his youth. At the age of 22, the artist created paintings along with drawings that are colorful, attractive and express his complete imagination. In his new original artwork "Mona Sur La Plage Urbaine", the artist captures urban beauty- painting what was an ebony model in the shade of red. Red similar to blood represents blood, labor and event struggle. Red is also more impulsive than any other color; the color red is a bright, warm color that evokes strong emotions. While it can also be associated with love, warmth, and comfort.
The artist's understanding color psychology creates several of his artworks that flow and undergo development for others to be moved by his works. Kenal first discovered this style of colorful and strategic art in 2012. The artist has been featured as a RAW natural born artist in Omaha, Nebraska for his unique style of artwork. He was part of the artshowcase held in at Omaha's music venue Sokol Auditorium. During the art and music showcase the artist featured 5 pieces of artwork and sold one piece before the show ended.
"After the fashion week and shows, I sat down and went through about 4,000 shots that I took during the Omaha Fashion Week and as I narrowed down the images, a thought came to me to create fashion art. I started using multiple colors to create the artwork in a semi-abstract way, which kept the gestures, emotion, styles and figures as they were originally, but altered the color of the photographs and draw each figure to give is that semi-abstract feel." - Kenal
Kenal does not only compose symbolic artwork, but also creates fashion art. His collections include high heels stilettos, sensual art of couples and celebrity drawings.
The original artworks that Kenal has composed are praised by many. The artworks are versatile and dynamic, which makes them suitable for any environment; with multiple colors and basic lines, shapes and colors the art pieces composed by Pierre can be placed in any environment on any colored background. From the living room, closet, office, and a fashion or beauty boutique the art can fit in any environment and people will be amazed be the composition and vibrant flavor each of this artist's works delivers.
The artwork was also composed to deliver a combine vision of fashion and urban beauty with the impact of red tones . The original summer fashion art piece by Kenal is ideal for anyone that are into fashion, beauty and urban culture. The title of the piece is "Mona Sur La Plage Urbaine" is named after the photographer and translates from French into English as "Mona On the Urban Beach," a homage to the photographer that was willing collaborated with the artist.
-Kenal
Visit kenalsworld.com to view more original art compositions by the Caribbean born artist.
Evenson St. Vil
Kenalsworld LLC
http://www.KENALSWORLD.COM
submission[at]kenalsworld.com
561.351.9224