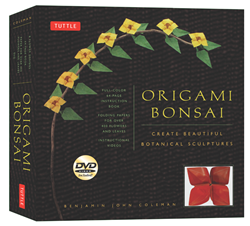 The glow-fold technique will be a valuable aid to paper folders of all levels. - Vanessa Gould, director of the documentary Between the Folds (2010 Peabody Award winner)
North Clarendon, VT (PRWEB) September 05, 2013
Author Benjamin John Coleman revolutionizes the creation of botanical sculptures by employing his patented folding pattern, the basic flower form, found in his new upcoming Origami Bonsai Kit. Unlike other origami books, the product includes revolutionary origami-folding paper, printed on both sides with patterns designed specifically to mimic the natural beauty of flowers and leaves.
Origami Bonsai Kit is set to be released on September 24 and features:

Full-color 64-page instructional booklet
Folding paper for over 400 flowers and leaves.
A companion DVD with instructional videos
With the publication of this kit, origami bonsai becomes accessible to many who would not have considered it. Diagrams include glow-fold overlays, which make them much easier to understand. "The glow-fold technique will be a valuable aid to paper folders of all levels," said Vanessa Gould, director of the documentary Between the Folds (2010 Peabody Award winner). Readers will now be able to learn easy and simple techniques with the proper materials to create beautiful, natural-looking origami bonsai in less than two hours. Finished sculptures add fanciful decor to the home and make gifts for friends and loved ones that will be cherished for a lifetime. The product can be pre-ordered from Amazon (http://amzn.to/1dHMO9R).
Benjamin John Coleman has been hooked on origami since his father brought home an origami book in 1974. His hobby kicked into high gear in 2006, when he left his teaching career and made the creation of origami bonsai his new way of life. He is the author of several books, including Origami Bonsai and Advanced Origami Bonsai.