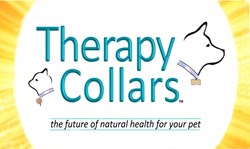 The future of medicine is energy medicine. - Dr Oz
Atlanta, GA (PRWEB) September 10, 2013
Therapy Animal Collars are now available for "consignment" for non-profit animal organizations outside the U.S.seeking an avenue to generate revenue through fund-raising projects. The natural, alternative pet safe, holistic collars and pet tags normally retail for $19 for a month+ supply.
Therapy Collars and Tags are a holistic and alternative pet choice to using drugs and chemicals. They are designed to help your pet combat the common ailments of animals of fleas and ticks, pet allergies, anxiousness, excess licking, pain and discomfort, old age symptoms, recovery from trauma, etc.
Dr. Oz, from The Oprah Winfrey Show, said, "The future of medicine is energy medicine." He is correct! Energy has the ability to heal. This is accepted in modern medicine as well as alternative therapies, holistic health practitioners, and homeopathic remedies. We have seen results indicating that when the collar is placed near your pet's body, the information stored in the pet collar can have an energy balance effect on your animal's energy field. This technology will help pave the way to the future of natural health care for all animals, not just pets.
Therapy Animal Collars is committed to supporting those organizations that provide shelter and services for animals as well as advocates of animal rights. The company will donate 10% of its profits to help organizations such as the SF SPCA at http://www.sfspca.org. Inquiries are invited.
The company's owners have been working in this industry for seven years. In what is a complete reversal of the norm, the company "tested" with people first and then applied the knowledge to animals. Therapy Collars is located in Atlanta, GA and can be reached at 800-PET-8171 or support(at)therapycollars(dot)com.