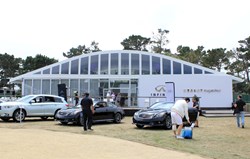 Los Angeles, CA (PRWEB) September 06, 2013
When it comes to providing rental needs for big outdoor events, Classic Party Rentals leaves the competition in the dust. That was never truer than in Pebble Beach where Classic Party Rentals contributed key infrastructure to the showcase of spectacular automobiles.
On the third Sunday in August, about 200 of the most prized collector cars and motorcycles in the world roll onto the famed eighteenth fairway at Pebble Beach. Tire meets turf and transformation occurs: the stage is set for one of the most competitive events in the automotive world. The occasion is the prestigious Pebble Beach Concours d'Elegance.
A 1928 Mercedes-Benz 680S Saoutchik Torpedo was named Best of Show at the 62nd Pebble Beach Concours d'Elegance, held Sunday, August 19, on the 18th fairway of Pebble Beach Golf Links. The event showcased 220 cars from 33 states and 15 countries and raised $1,077,220 for charity.
Classic provided some of our standard and custom structures, floors, HVAC and power for several of the top automobile manufactures showcasing at the 2013 Pebble Beach Concours d'Elegance. Each client uniquely identified their space with accessories such as; glass walls, doors, custom graphics, custom sailcloth tops, clear tops, glass handrails, wire handrails, hardwood and decking products and much more to create and inviting and luxurious space to display their latest vehicles and some even displayed some of their oldest vehicles.
Each activation was created for showcasing client entertaining, product launches, and even concerts, as well as allowing customers to drive some of the latest models available.
Classic looks forward to returning in 2014 to create New Pebble Beach Concours d'Elegance memories.
ABOUT CLASSIC PARTY RENTALS
Classic Party Rentals is the nation's leading full service event rental company. Classic services most major markets including San Francisco, Los Angeles, Chicago, Dallas, Napa, New York, and Pompano Beach. Its high-profile event roster includes more than 180,000 major sporting events, brand promotion tours, Hollywood awards shows, movie premieres, celebrity weddings, charity events and private social events annually. Locally, each Classic Party Rentals location is recognized as an integral part of successful holiday celebrations at home and at work, backyard weddings and birthday parties, school and church functions, local food and wine festivals, and many community service benefits. Classic Party Rentals is also a leading nationwide provider of tents, clear span structures, power, heating, air conditioning and sub-flooring. Ultimately, there is no need to lose sleep over the details. If you can dream it, Classic Party Rentals can deliver it. We do business under a number of different names, and customers are never disappointed by our Blue Diamond service or the strength of our partners will bring to events. For more information, please visit ClassicPartyRentals.com. "Creating memorable life moments."
ABOUT the PEBBLE BEACH CONCOURS D'ELEGANCE
First conducted in 1950, the Pebble Beach Concours d'Elegance is often said to be the world's premier celebration of the automobile. Only the most beautiful and rare automobiles are invited to appear on the famed eighteenth fairway of Pebble Beach Golf Links each year, and connoisseurs of art and technology congregate to see them.
The annual affair, which has raised over $16 million for charity, includes a series of related events, such as the Pebble Beach Tour d'Elegance presented by Rolex, Pebble Beach RetroAuto, Pebble Beach Motoring Classic and the Pebble Beach Auction presented by Gooding & Company.