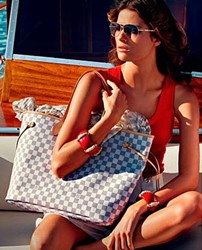 (PRWEB) September 07, 2013
Quality luxury handbags are designed to last for many years. Unfortunately, newer owners of high-end designer handbags may see their big ticket purchase fall short of its intended lifespan due to extreme exposure to the elements, improper storage and other forms of mistreatment. John Muller, style expert and co-founder of LuxurysCloset (http://www.luxuryscloset.com), has a few pointers on how to get the most from your handbag investment.
1) Handbag Preparation: The first step is to treat the bag with a leather protector, which will protect it from many minor stains that may occur down the line.
2) Pack Light: Never overload a luxury bag, as this can lead to major strain on the straps, which may have to be repaired down the line. Also, filling a purse to maximum capacity can cause the bag to become misshapen, ruining its overall appearance.
3) Keep it Clean: Dirt, oil, and sweat can quickly turn a cherished Louis Vuitton bags into a spotty mess. Therefore, it is always a good idea to only handle these luxury items with clean hands. Also, avoid placing it on the ground – for even a short while. The three-second rule is a no-go when it comes to high fashion, and so for less than $20 bucks a purse hanger is the perfect companion for your luxury bag. Strong enough to hold most bags, purse hangers literally hang of the edge off the table, leaving your bag free from the millions of germs on the ground, just waiting to ruin its pristine finish.
Popular handbags from designers such as Prada, Gucci and Hermes can cost a pretty penny, but these high ticket items hold their value exceptionally well, especially for owners take the time to care for their luxury brand bags.
ABOUT LuxurysCloset
With over a decade of experience, LuxurysCloset specializes in buying, selling, and consignment of authentic couture fashions. Buy, sell or consign favorite luxury designers such as Louis Vuitton, Prada, Gucci, St. John Knits, David Yurman, Burberry, Tiffany & Co. and more. All items are Guaranteed 100% Authentic. Visit LuxurysCloset online at http://www.LuxurysCloset.com or call toll free at (573)234-6116.