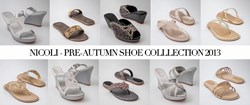 NICOLI is proud to showcase their Pre-Autumn Shoe Collection 2013
(PRWEB) September 17, 2013
http://www.nicolishoes.com ToToday, NICOLI is proud to showcase their Pre-Autumn Shoe Collection 2013 on http://www.nicolishoes.com and in stores throughout the GCC. The collection is confirmation that, "every girl's best friend is a fabulous, comfortable and stylish pair of crystal embellished shoes that can transition from day to night - no matter what the occasion," as stated by Kate Weaver, Marketing Director, NICOLI.
Steeped in glamour, famed for fashionable yet timeless products and bequeathed to future generations - the world of NICOLI is not just exclusive, it is elegant, unique and highly sought after too. Hollywood glamour and Italian style is behind the designs, and can be seen in everything they do, from the exquisitely handcrafted evening handbags, purses and clutches, to glamorous Swarovski diamanté embellished shoes.
NICOLI, home to a world-class collection of luxury shoes and handbags, is proud to be one of the most "savvy crystal embellished' shoe and handbag brands, which continues to deliver fabulous on-trend, limited edition collections all year round. Today, NICOLI is proud to announce the arrival of their pre-autumn collection of fabulous crystal embellished flats and stylish handcrafted wedges. The beautiful collection is made up of stunning metallic leathers in silver, peach and gold, and each pair is generously encrusted with the brand's signature sparkling crystals.
The NICOLI limited edition collection has been designed with carefully crafted heel heights, and was created to reach the desires and up-most expectations of NICOLI's high-powered clientele, who expect only the best. Each and every shoe from the NICOLI collection has been hand designed and crafted with the utmost care and attention to detail. Furthermore, the leather quality is second-to-none, which is why NICOLI has built such a strong and long lasting relationship with its customers.
Founded in Dubai in 2004, NICOLI represents world-class luxury; Italian heritage, Arabian elegance and true Paris spirit, intertwined with contemporary style. Already a significant brand with 7 high-concept stores flourishing within the GCC region and expanding, NICOLI's growth has been forged by innovative and trendsetting collections, building rock-solid foundations and maintaining excellent partnership links.
So, whether you're looking for day shoes, shoes that transition from day to night, party shoes or evening shoes for that red carpet moment, the NICOLI Pre-Autumn Collection is every woman's accessory must have. The Collection can be viewed and bought online at http://www.nicolishoes.com and in boutiques throughout the GCC.