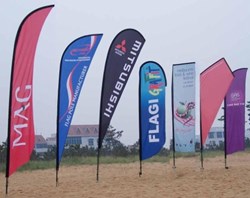 (PRWEB) September 05, 2013
More and more people think that Swooper flags are the latest and greatest way to promote their businesses, because a slight wind will make the Swooper flags come to life. Today, CKFlag.com, a famous brand of custom Swooper flags, announces its custom Swooper flags wholesale business now available (see: http://www.ckflag.com/custom-advertising-flags-cheap-wholesale/).
According to a senior business manager of the company, the promotion is specially designed for the USA customers, and anyone who places an order over $2000 can enjoy a special discount, up to 39% off. Moreover, the flags from CKFlag.com can be customized with customers' logos or others on the flags; the company has significantly enhanced the cost-effectiveness of each flag.
"It is essential considering the cost and time when a company is advertising. Some ways like TV ADs would be entirely impractical for many companies due to its high cost. Custom flags can be gifts for your customers. Many customers send our custom flags as gifts to their own clients, so that custom advertising flags actually have become popular corporate gifts, with designs for clients that include logos and others," says the manager.
About CKFlag
Founded in 1995, CKFlag is an industry leader due to its outstanding customer service and the best selection of cheap advertising flags, custom Swooper flags, outdoor banners and more. Its customers come from many countries all over the world. The company aims to offer its customers more choices with affordable prices, and they accept customer's own designs as well.
For more information, please visit http://www.ckflag.com/.