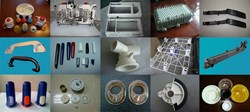 (PRWEB) September 05, 2013
Wuxi Glory Plastics is a China based plastic mold company, understanding the benefits of high quality and affordable plastic molds. Recently, the company has unveiled a special offer on its plastic molds (http://www.plastics-molding.com/Mold_Development.htm), up to 30%; the company wants to expand its market share in the near future.
Wuxi Glory Plastics' strict quality control system has helped it well-known to many people around the world; its products are applied in a lot of industries like automotive, electronics, food equipment, construction, defense and more. The company specializes in designing and creating all kinds of molds and industrial plastic products. Their passion is to make affordable and high quality products available to customers across the world, which is why they buy materials from only the most trusted, well-established suppliers.
"We have much experience in the manufacture and development of molds, and we have developed over 20 patented products. Now, we are excited to introduce our custom plastic molds for our clients around the world," says the CEO of the company.
Wuxi Glory Plastics' revenue is forecasted based on significant regions, such as North America, Europe, etc. The company considers that it is its responsibility to look after every customer within its ability.
Wuxi Glory Plastics was established in the year 1995. It is a China based manufacturer which is an industry leader in the China plastic industry. It is known for its high end services and competitive rates. For more information visit their site address at http://www.plastics-molding.com/Industrial_Product.htm