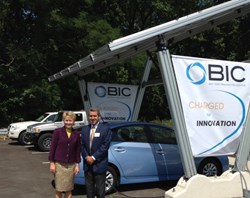 "The BIC has tremendous potential to positively impact the economic development climate in Indiana through the attraction of member companies in cooperation with its innovative activities," said Indiana Lt. Governor Sue Ellspermann.
Newberry, Indiana (PRWEB) September 06, 2013
renewz sustainable solutions inc., today announced the completion of its state-of-the-art isola™ solar powered carport at the Battery Innovation Center in Newberry, Indiana, adjacent to the US Navy's largest battery testing and research base. The solar charging carport system was developed by Renewz® and combines American-made electrical equipment from Eaton with SILFAB's superior efficiency solar panel technology.
"The completion and deployment took just a matter of days for this first solar power canopy on our new facility grounds," said Charles LaSota, President of the Battery Innovation Center. "renewz' rapid-assembly design, combined with an innovative solar technology and power management package, proved to be fastest and least disruptive to our operations of any others we found on the market, something we believe will be of great importance to future opportunities for our armed force bases in their pursuit of energy independence around the world. The need for robust solar-recharged energy storage operating systems becomes more apparent as the number of electric vehicles in our defense arenas increases."
"When called to action, our team delivered a seamless experience for this customer in record time," said Sass M. Peress, CEO of renewz. "Built right at the front steps of the US Navy's largest battery development facility, this modular two-car solar canopy took just two days to assemble without need for any foundation trenching thanks to its ballasted design. Having now built several solar carports in 2013 of this type, our technology and team have clearly demonstrated how armed forces, educational institutions, governments, power utility and corporate entities around the world can quickly and easily deploy renewable, clean energy supplies for their electrical vehicle charging infrastructure, while powering their electric fleets towards true 'zero-emission' targets."
"We at Silfab understand the importance of energy storage for the continued expansion of alternative energy, and are glad to support the Battery Innovation Center," said Paolo Maccario,General Manager and COO of Silfab. "We also believe that the mission critical operations of our Armed Forces, require robust and reliable solutions, while also fostering continued innovation. This aligns with the business philosophy Silfab prides itself of. High density and "smart" solar PV modules are just some examples of such innovation. I wish to congratulate all the partners in this project for sharing the same relentless pursuit of perfection and technological advancement."
About renewz sustainable solutions inc.
renewz sustainable solutions, inc. develops and delivers unique solar carport projects based on careful matching of design, technology and brand requirements of its clients. Through the delivery of recognizable, easy-to-implement, and effective solutions, we help clients discover ways to increase their energy independence and security, with leading environmental stewardship...from road to roof®. For more information, visit http://www.renewz.com, facebook.com/renewz or view our videos at youtube.com/renewzsolutions/.
About SILFAB
Silfab is a leading North American, fully-automated solar photovoltaic module manufacturer. Its founding partners have been leading innovators of photovoltaic technology since 1981. With 30+ years' experience, our production process of module manufacturing is continuously being improved. Equipped with the most advanced fabrication technologies, within in a 100,000+ sq. ft. facility, with an annual capacity of 145MW, Silfab is committed to providing the highest quality, high performance modules manufactured within the western hemisphere. For more information, visit http://www.silfab.ca/.
About Battery Innovation Center
The Battery innovation Center (BIC) in Southwest Central Indiana is a unique "not-for-profit" organization that pulls together world class talent from industry, academia, and government laboratories to provide for the rapid commercialization of new and emerging energy storage system technologies through collaborative research and development. It's "state-of-the-art" new $15.6M laboratory at [email protected] Technology Park near Naval Support Activity Crane provides unique prototype manufacturing capability for Li Ion batteries, battery characterization and performance test and evaluation capabilities, as well as large scale energy storage devices,charging/discharge systems, and green energy sources for Micro Grid and grid management research and validation. Designated as a U.S. Department of Commerce, Economic Development Agency (EDA) Proof of Concept Center for Energy Storage technologies, BIC has an active cooperative research and development agreement with NSWC Crane for conduct of unique power and energy research and development opportunities. For more information, visit http://www.BICindiana.com/.