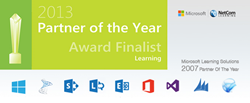 Our commitment to education and the promotion of the value of lifelong learning, paired with a top leadership team, the finest in technology instructors, and our experienced sales staff is helping us to grow the company
New York, NY (PRWEB) September 05, 2013
NetCom Learning, the leader in information technology and business training, announces the immediate positive response to the company's latest marketing and advertising campaigns in terms of both revenue and sales growth. In August 2013, NetCom achieved the highest earned monthly revenue of 2013, creating the highest cash flow for the company in 2013. The award winning company and Microsoft Learning Partner of the Year finalist, a recognition given to the best and brightest Microsoft partner companies, is committed to becoming the most trusted learning organization in the country. To reach the company goals, NetCom Learning has offered new technology training packages, including a variety of intensive training camps, where students have the opportunity to obtain multiple IT certifications and has opened a new high technology training center in Las Vegas, Nevada, where students can focus in on the latest in IT training. In addition, the company continues to offer regular complimentary training webinars in a variety of software solutions, provided by top notch training instructors.
"Our commitment to education and the promotion of the value of lifelong learning, paired with a top leadership team, the finest in technology instructors, and our experienced sales staff is helping us to grow the company in terms of profitability and increasing customer and industry recognition," said Russell Sarder,CEO of NetCom Learning. "Our customers have come to expect that NetCom Learning will go the extra mile in providing the right training at the right price so that companies and individuals can get the training they need to get the job done," said Sarder.
Company growth
In addition to increased revenue and growth in cash reserves, NetCom Learning has demonstrated its growth in a variety of business areas including website traffic, NPS scores, customer satisfaction, and leads per month. Glowing customer testimonials and continuing high Net Promoter scores (NPS), which are industry standards for tracking customer satisfaction and loyalty, indicate the company is meeting or exceeding customer needs. In 2013, NetCom Learning hit a NPS score of 72.33 in February 2013 and has maintained an average of 67 NPS over the year. The company's web traffic is up 60% over the same time period in 2012, and the number of customer leads or individuals contacting NetCom Learning on their own initiative is at an all time high.
Why choose NetCom Learning for your training needs?
NetCom Learning instructors who routinely achieve high ratings from their students possess an average of 16 years of experience and a cumulative average of more than 10,500 years' experience in the field of their expertise. Instructors carry an average instructor evaluation of 8.6 out of 9, one of the highest instructor evaluations in the industry. The high quality of training has resulted in over 2,000 testimonials and a 96% customer satisfaction rate with those customers indicating they would recommend NetCom Learning to others. NetCom Learning offers training in a variety of options including traditional classroom settings, intensive boot camps either at NetCom Learning locations or offsite, private customized training, and Live Online Training (LOT) anytime anywhere.
For more information on NetCom Learning visit http://www.netcomlearning.com/about-us/about-us.html?advid=412.
About NetCom Learning
NetCom Learning is an innovative leader in IT, business and executive training to companies, individuals, and government agencies. Since its inception in 1998, NetCom Learning has trained over 80 percent of the Fortune 100, serviced over 45,500 business customers, and advanced the skills of more than 71,000 professionals through hands-on, expert-led training, with the organization maintaining an average instructor evaluation score of 8.6 out of 9. NetCom Learning was recognized by Microsoft Corporation as its Worldwide Training Partner of the Year and named thrice to Inc. Magazine's list of fastest growing private companies in America. The organization was also recently named to the 2012 Top 20 IT Training Companies by TrainingIndustry.com and was named "Company of the Year" by the American Business Awards.
The purpose of NetCom Learning is to promote the values of lifelong learning.