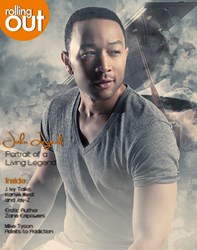 Hip-hop is the dominant music on black radio today.
Atlanta, GA (PRWEB) September 05, 2013
R&B is in free fall. The genre that dominated the music charts for decades is currently undergoing a massive identity crisis. Much of today's chart-topping R&B has been replaced or watered down by electronic dance music and the aggressive sounds and themes that are usually associated with hip-hop.
Enter John Legend. Unafraid to make music on his own terms, the crooner remains true to his soul roots. But he also recognizes that true R&B is close to being on life support.
"Hip-hop is the dominant music on black radio today," John Legend admitted during an exclusive interview with rolling out in Brooklyn, N.Y. "The stations that traditionally played R&B aren't playing it as much these days. That's a part of where music is going. At times, I listen to more hip-hop than R&B. I don't blame radio stations for playing mostly hip-hop. But it's our responsibility as R&B artists to make music that will attract the people. We have to make music that's urgent, great and compelling."
Visit rollingout.com to read the interview in its entirety. Be sure to check out the exclusive photo shoot and video footage with celebrity photographer DeWayne Rogers.
About rolling out Magazine:
Rolling out, the nation's largest free urban weekly, is a digital and print magazine that focuses on the black experience in response to entertainment, politics, fashion, culture, sports and lifestyle points of interest. Headquartered in Atlanta, rolling out is positioned as the voice for the African American experience, using its newspaper as a platform in the marketplace to express urgency for education reform, and to document entrepreneurial endeavors and other relevant issues in the Diaspora. For information on rolling out, please log on to rollingout.com.