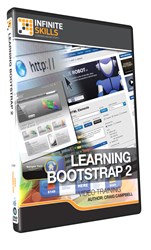 Learn web development with Bootstrap 2 at your own pace.
(PRWEB) September 07, 2013
Software training firm Infinite Skills Inc. this week introduced its "Learning Bootstrap 2 Video Tutorial," a course that teaches web development using Twitter's innovative platform for streamlining the development process.
Bootstrap is an open-source platform using LESS stylesheets which precompile CSS sheets to provide basic style definitions for all key HTML components. The result is that users can create a uniform, modern presentation style for formatting text, tables, and form elements.
Infinite Skills' "Learning Bootstrap 2 Video Tutorial" provides a clear, focused guide to getting started with Bootstrap, showing how the platform can be used to save time and energy in the development process.
Learning Bootstrap 2 Video Tutorial
Course author Craig Campbell has been working in web design for more than a decade, and training others for the past five years. He is a full-time freelance web designer, focusing on video production, cinematography, and illustration in web-based environments.
In the Infinite Skills "Learning Bootstrap 2 Training Video," Campbell begins by introducing the basic framework files and exploring the grid system. He then looks at Bootstrap's capabilities for responsive web design, allowing users to create pages that automatically adapt to browser size and conditions.
Campbell then explores the technical details involved with producing a site structure, teaching how to create a navigation bar and work with icon glyphs, including a chapter project on building navigation features.
Other chapters cover how to format various pages in a typical website, including a home page, about page, blog page, and a contact page, implementing technical concepts such as text and image styles, pagination, tabbed content, and carousel navigation, among others.
"Twitter Bootstrap is a front end framework developed by Twitter and designed to provide a head start in web development," Campbell explains. "In this course, we'll see how quick and easy it is to get a high quality site up and running using bootstrap framework."
Free demo videos and a full list of course contents can be found on the Learning Bootstrap 2 Tutorial training page on the company website: http://www.infiniteskills.com/training/learning-bootstrap-2.html.
Infinite Skills offers the Learning Bootstrap 2 Video Tutorial either as a DVD or a direct download from the company website at a retail price of $49.95. Infinite Skills tutorials are compatible with both Mac and Windows operating systems. Shipping is available around the globe. Additionally, Infinite Skills tutorials are supported by project files which correspond to examples in the videos.
About Infinite Skills Inc.
A leader in the field of software training, Infinite Skills designs its courses on a task-oriented model, teaching complex skills by providing hands-on examples and guiding users as they carry out essential functions. Infinite Skills offers a wide range of software titles available as DVDs, digital downloads, and in iPad editions. Infinite Skills now offers a subscription service, providing access to all its training content for a monthly fee, keeping with company's aim of delivering professional training to customers anywhere they want to learn.