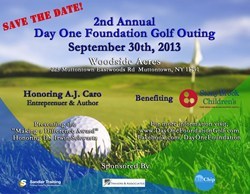 (PRWEB) September 07, 2013
Dr. Irwin L. Schwartz, attending Pediatrician at the University Hospital at Stony Brook, St.Charles Hospital and the John T. Mather Memorial Hospital, will be honored at the Second Annual Golf Outing for the Day One Foundation. The outing and dinner is being held at Woodside Acres on Monday, September 30, 2013.
The Day One Foundation was created to help and give Long Island's youth a greater chance at success in life. The need for a Children's Hospital in Suffolk County is evident. The Stony Brook Children's Hospital will be receiving the proceeds from this outing which are touted to help create an inspiring family waiting area.
As a past president of the Suffolk Pediatric Society Schwartz noted, "I consider my greatest achievement my family and my pediatric practice. Being honored at this outing for the Stony Brook Hospital is a heartfelt accolade." In his early training years Dr. Schwartz served for two years as a commissioned officer in the U.S. Public Health Service.
"Dr. Schwartz is committed to providing superior pediatric and adolescent care. To honor him at our Day One Foundation event is just one way, as a community, we can thank members of our island that help us all thrive," stated Brian Travers, founder of the Day One Foundation and president of Travers and Associates.
Sponsors for the event include: BluChip Marketing, Travers & Associates, Security Benefit, and Farrell Fritz.
Dr. Schwartz is married to Sandra. He has three children and a daughter-in-law he considers his fourth child and three adorable grandchildren. For further information on golfing in this outing or attending the dinner please contact Roger Caldwell at 888-324-9515 or dayonefoundation(at)gmail(dot)com .