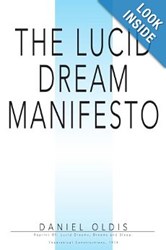 "Daniel will be a guiding force for us in designing exciting new tools and services"
Sterling, VA (PRWEB) September 10, 2013
Dreams Book Inc. (DBI) announced today that Daniel Oldis will join its team as an Advisor for Social Dreaming. In this role, Mr. Oldis will bring his extensive experience in technology, sociology and psychology as he advises DBI on the development of social dreaming solutions that can be offered through its subsidiary, Dreams Cloud, the premier online resource for dreams and dreamers.
"With his passion, intellectual curiosity and practical experience, Daniel will be a guiding force for us in designing exciting new tools and services for our users. We are thrilled to have him on our team," said Jean-Marc Emden, Chairman and co-founder of DBI.
Mr. Oldis commented, "Dreams Cloud has the vision, reach, commitment and ambition to significantly impact the world of dreaming." He added, "I am confident that this is the right team to successfully develop and bring my ideas to fruition."
Mr. Oldis has a long-standing interest in dreams and lucid dreaming. In 1974, he published one of the first books devoted to the topic of lucid dreaming; the book was republished as a paperback in 2006 under the title "The Lucid Dream Manifesto". In 2012, his paper entitled "Experiments in Inter-Dream Communication" was presented at the annual conference of the International Association for the Study of Dreams (IASD). In recent years, his work has been featured in Forbes.com and other publications.
Lucid dreaming is a scientifically validated phenomenon in which the dreamer is aware that he or she is dreaming, while continuing to sleep and dream. References to the phenomenon can be found in both eastern and western cultures going back hundreds of years, but many people have only become aware of it in recent years, with the popularity of the film "Inception".
Mr. Oldis has been a software engineer and data analyst for major corporations for over 30 years and also possesses 20 years of college-level teaching experience. He is the inventor of the MetaTrieve database search engine and a nominee for the 1996 Pushcart prize.
About Dreams Cloud
Dreams Cloud, a subsidiary of Dreams Book Inc. (DBI), is a global resource which specializes in gathering, saving, and tabulating a statistical compilation of dreams. The website provides its members with tools to log their dreams, create dream journals, save them privately or share them publicly or anonymously, and receive personalized reflections on their dreams. The goal of Dreams Cloud is to better its members' lives and those of the public through its efforts. To learn more about Dreams Cloud, please visit http://www.dreamscloud.com.
About Dreams Book Inc.
Dreams Book Inc. (DBI), a Herndon, VA, based company, is the creator and manager of various internet-based projects. DBI employs fractional management and in-house expertise and development as well as a multi-national outsourced team to create value for its stakeholders through synergetic and strategic project management. DBI specializes in projects that provide social benefits and have mass appeal.