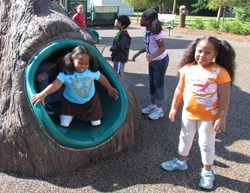 Chattanooga, TN (PRWEB) September 05, 2013
PlayCore is honored to have participated in the creation of a new inclusive playground database with National Public Radio (NPR.) NPR reached out to PlayCore's Center for Professional Development to ask for assistance in identifying the address of inclusive play spaces throughout the US. The company responded enthusiastically with information on hundreds of inclusive spaces around the country created with PlayCore's 7 Principles of Inclusive Playground Design. The Principles, created in partnership with Utah State University's Center for Persons with Disabilities, promote a "beyond access" philosophy of design that focuses on inclusive play so all people, of all abilities, can play comfortably together.
The database launched in August. The National NPR team reached out to its local affiliates prior to the launch, so they could do regional stories to promote the initiative. The Chattanooga affiliate, WUTC radio, reached out to PlayCore for an interview to coincide with the launch. The interview reinforces PlayCore's research and commitment to inclusion.
To learn more about the 7 Principles of Inclusive Playground Design, request a free Best Practice guidebook from PlayCore.
NPR hopes to grow its database, so if you know of inclusive play spaces that are not listed in the database, please e-mail playgrounds(at)npr(dot)org.