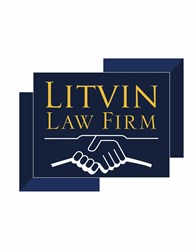 Brooklyn, NY (PRWEB) September 06, 2013
Gennady Litvin, founder of Litvin Law Firm announced that last week banks representing the nation's largest bond investors sued the city of Richmond (Wells Fargo Bank NA et al v. City of Richmond California et al, U.S. District Court, Northern District of California, No. 13-03663 and Bank of New York Mellon v. City of Richmond, California et al, U.S. District Court, Northern District of California, No. 13-03664), which last week became the first city to adopt a novel plan to take over underwater mortgages through the eminent domain process. As reported in Fortune Magazine, Governments typically use eminent domain to forcibly seize land to turn around blighted areas. In Richmond, where roughly half of all homeowners with mortgages are underwater, officials plan to use eminent domain to seize home mortgages from investors at a price potentially below the property's current market value. The city would then reduce the loan balance and refinance those mortgages so that borrowers would end up paying less every month.
"This self-interest move by major banks is just a further indication of their lack of desire and motivation to assist homeowners that are in foreclosure" Mr. Litvin stated. The largest banks and mortgage lenders continue to deny their role in the crash of the housing market and the resulting foreclosure crisis. The corporation set up by these banks, MERS (Mortgage Electronic Registration System) facilitated the alleged widespread robosigning fraud which identified hundreds of thousands of forged documents created in order to fulfill the court requirement to foreclose on a property.
The lawsuit against Richmond according to court documents, was filed by three mortgage-bond trustees, units of Wells Fargo & Co., and Deutsche Bank, which, according to the Wall Street Journal, were directed to act by a group of investors, including BlackRock Inc., Pacific Investment Management Co., as well as Fannie Mae and Freddie Mac. They argue Richmond's use of eminent domain would benefit only a small group of citizens at a loss for out-of-state investors and therefore violates laws governing interstate commerce. More than that, the lawsuit argues, seizure of loans doesn't benefit the public good. Most important to note though is that the plan to help the residents of Richmond, CA certainly does not benefit the banks.
For more information visit http://www.litvinlaw.com.