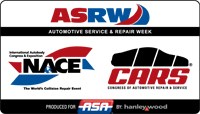 Dallas (PRWEB) September 19, 2013
Automotive Service & Repair Week (ASRW) will address the new health care reform changes in a session titled, "Healthcare Reform: 2013 Decisions for Employers" on Friday, Oct. 18, during the ASRW Conference Program. ASRW|NACE|CARS will take place Thursday and Friday, Oct. 17-18, with education beginning Wednesday, Oct. 16, at the Mandalay Bay Convention Center in Las Vegas.
The session will take place from 8 a.m. - 9:30 a.m. (FR03) and again from 4 p.m. - 5:30 p.m. (FR20). Leading the discussion are Constantinos Panagopoulous and Brian Pinheiro, both of Ballard Spahr LLC.
"With increasing discussions in the media, health care reform and the impending changes are one of the most talked about subjects, and our goal is to provide top-quality resources for our attendees to be properly informed and prepared about the coming changes and how they will be affected," said Bob Redding, ASA's Washington, D.C., Representative.
Registration for this individual session is available online at http://www.asrwevents.com and is $80. Additionally, it is included in the price of an all-access Super Pass. (Attendees who register using an ASRW exhibitor link are eligible for a free expo pass and a $50 savings on a conference purchase.)
About the Events
ASRW includes the International Autobody Congress & Exposition (NACE) and the Congress of Automotive Repair & Service (CARS), making it the industry's leading event for dedicated professionals to conduct business, network and engage in industry issues. The Tradeshow News Network (TSNN) has recognized ASRW 2011 and 2012 as a Top 250 U.S. trade show.
NACE – the world's collision repair event – represents the only B2B event of its kind specifically designed for collision repair industry professionals from around the globe. NACE features a comprehensive educational Conference and Exposition with hundreds of diverse exhibiting companies displaying the latest equipment, products, services and technology available to today's collision repair industry.
CARS – the premier event for automotive service professionals – features a high-quality education lineup led by industry leaders, along with an exhibitor showcase of automotive service and repair related equipment, products and services.
ASRW is produced for the Automotive Service Association (ASA) by Hanley Wood Exhibitions, a division of Hanley Wood, LLC – a premier media and information company. For additional information, contact ASRW at P.O. Box 612128, Dallas, Texas 75261-2128; call (888) 529-1641 or (972) 536-6444; or visit http://www.ASRWevents.com.
About the Sponsor
The Automotive Service Association (ASA) is the sponsor of ASRW and two of its shows, NACE and CARS. ASA is the largest international not-for-profit trade association of its kind dedicated to and governed by independent automotive service and repair professionals. ASA advances professionalism and excellence in the automotive industry through education, legislative representation and member services. For additional information about ASA or to join, go to http://www.ASAshop.org.
-30-